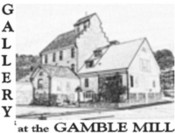 Bellefonte Historical and Cultural Association
Bellefonte, Pennsylvania
January 1997 Show
Gallery at The Gamble Mill



BHCA Home | Gallery Home | Current Shows | Archived Shows

Gallery at The Gamble Mill
presents
One Piece Apiece
Sponsored by
The Bellefonte Historical & Cultural Association (BHCA)
&
The Pennsylvania Council on the Arts
Thirty-two visual artists were asked to hang just one piece in a celebration of the diversity of art in the greater Bellefonte area
January 25, 1997 - March 8, 1997
Opening and Reception, January 28
1. Charley Farrell                  Morning in Coleville (oils)                              $450
Charley (Bellefonte), after 30 years as a practicing architect, is now an MFA candidate in painting at Penn State.
2. Gerald Kempner   Bilger's Rocks (silver emulsion)                      $170
Gerry Kempner (Clearfield) has been photographing in the Bilger's Rocks area for the last 14 years.  Wandering far enough to mute all sounds of civilization, aware only of the forest, stream, and animals [real or imagined], he can nearly believe that he has been suddenly transported to some non-defined primeval time.  When this happens, he is strongly moved to preserve and to share perceptions and emotions.
3. Judy Sharer                       Welcome to the Jungle (fiber quilted art)         $65
Judy Sharer (Port Matilda) recycles left-over quilt project fabrics and scraps.  The fabrics (and in some cases threads) are layered and arranged into a randomly pleasing design, leaving raw edges exposed, then machine quilted and finished.
4. Z. Vaughn              City Lights (wood, paper, tempra)                  $200
Zack (Bellefonte) says this piece was inspired by memories of travels with Mom and Dad and sister -- late night, early morning views of many cities.
5. David C. Paden     Mountain/Lake Series No. 5 (pastels) $285
David Paden (Bellefonte) is an elementary school music teacher who is interested in folk music and collecting folk instruments.  He took up drawing in 1983.  After much trial and error, he turned to pastels.  "My interest lay in nuance and atmospheric conditions, and pastels fit in," he says.
6. Paul Ruby              Scotland 1984 (color photograph)                   $400
Paul (Bellefonte) is a frequent Gamble Mill exhibitor, notably in 1996 with the "Bilger's Rocks Group" that includes Gerry Kempner and Steve Williams.
7. Susan Nicholas Gephart   Autumn Light (pastels)                        $650
Susan (Bellefonte) says that "the pure landscape, ever changing with its light, color and moods is a captivating subject.  Although used as a chosen focus for almost twenty years, doorways of possibilities are now opening towards the dynamic abstract elements hidden within the landscape."
8. Laura Maney                     Two Trees (oil)                                               $600
Laura (Woodward) finds that trees are one of her favorite subjects.  These are some that she saw while visting Williamsburg, VA.  She has emphasized their texture and monumentality by using vibrant color and crisp outlines.  Laura will exhibit at the Gamble Mill beginning June 28.
9. Pat Casher             Along the Benner Pike (oil)                            $285
Pat (Bellefonte) is a native of  Snow Shoe.  He received formal art training at Penn State and the University of Delaware.  He has lived and worked in Bellefonte since 1981.
10. Vanetta J. Irwin  Flowers in Pink Vase (pastels)                        $325
Vanetta Irwin (Osceola Mills) chooses pastels as her favorite medium because of their instant brilliance.  She will participate in a three-person exhibit at the Gamble Mill beginning June 28.
11. Amy Forsyth                    Bellefonte Farmers' Market (watercolors)       $250
Amy (Bellefonte) is an Assistant Professor of Architecture at Penn State, where she teaches architectural drawing and design studios.
12. Ruth Kempner    Mother and Child (casein)                               $225
Ruth Kempner is a professional artist who lives and teaches in Clearfield.  She is a signature member of the Pennsylvania Watercolor Society and has had many one-person shows.  She exhibits in Bellefonte at Adam and Art.
13. John LaForce                  Kyle's Spring House, Mackeyville (pencil)     $350
John LaForce (Bellefonte) says this scene has been often painted and photographed, but seldom including the Kyles' beautiful Georgian farmhouse.  The spring house was once used by the Kyle family dairy to keep milk cans cool until they could be delivered.
14. F. Diane McNeal Generations (photo etching)                            $3000
F. Diane McNeal (Bellefonte) studied at the Philadelphia College of Textile and Science and received a B.F.A. in Printmaking from Penn State.  She began her professional career in fiber arts.  As a returning adult student, she engaged in etchings, lithographs, relief painting and serigraph both on paper and fabric.
15. Mary C. Vollero  Michael on the Bus (computer-generated print)          $80
Mary Vollero (Bellefonte) has exhibited at the Gamble Mill and is a past Chair of the Gallery Committee.  She is represented by Adam and Art in Bellefonte.
16. Joan Blasko                     Dancing Emily (intaglio/woodcut print)                      $250
Joan Blasko (Lemont) is a former Bellefonte resident.  This is a silhouette/portrait portraying "the spirit of Emily."
17. Mary Shay McGuire                   Worries on Mind...  (watercolor + pen & ink)   $225
Mary (State College) has studied in Boston, Paris and New York.  Her themes are whimsical, and her favorite media are watercolor, pen & ink and collage.  She is also a potter. She has exhibited throughout the northeast, and her work is in many private collections.
18. Joelynn Snyder Ott         Reflections of Leeshaun and Yoko Ono (acrylic)       NFS
The work of Joelynn Snyder Ott (Bellefonte) hangs in major private and public collections.  Since 1968 she has exhibited and lectured on women and art internationally.  Her book Women and Creativity has become a standard reference for feminist art scholars.  She has taught drawing and painting for 25 years at institutions including Penn State.
19. Lynn R. Dankanich        Coming Back to Center (color markers on fingerpaint paper)  NFS
Lynn (Bellefonte), a relatively new artist, cites this work as an example of "mind beasties" -- little creatures that move throughout the picture.
20. Mary Armstrong Sisters (I Love You, You Love Me)               NFS
Mary Armstrong (Bellefonte) has worked in many aspects of photography, from the darkroom to instructing classes in composition and style.  She has had 400 photographs published in the print media and has exhibited in venues throughout the state.  She especially enjoys oil tinting black and white photographs.
21. Ann Alters                       The Four Year Bouquet (print)                       $85
Ann Alters (Bellefonte, with a studio in the Crider Exchange) has been a graphic artist and printer since 1974.  This work was completed in two installments over four years, first as a watercolor finished while she stayed home from a boating trip to Sayers Dam and second as an offset lithographic printing on the occasion of an open house at her studio.
22. Lisa S. Peters                   Simple Florentine (needlework)                      $195
Lisa Peters (Bellefonte) is a regular exhibitor at the Gamble Mill.
23. Michael Theuer   Lynn House Door (watercolor)                       NFS
Mike has been a Bellefonte resident for eight years and loves his community.  He works locally as a child therapist and owns the Cool Beans Coffee and Tea shop in Bellefonte with his wife, Linda Brown.  He teaches watercolor painting and drawing for pleasure.
24. Terri Shuster-Eagles       The Hare in the Moon (stoneware)     $95
Terri (Bellefonte) bases this piece on Japanese folklore in which the rabbit is believed to keep the moon clean by rubbing it with bunches of horsetails.
25. C.R. Tinkelman               Divorce Mask                                      NFS
Ms.Tinkelman (Bellefonte) writes "Nobody wins, each person loses a precious part.  How does it feel looking out from behind the mask?  How does it feel to look at the mask?"
26. Dy Witt                 African Black Rhino (clay wall sculpture)                  $195
Dy Witt (Bellefonte), who also works in ceramic tiles and stained glass, will exhibit with Judy Sharer at the Gamble Mill beginning May 3.  This is the first in a new series of wall sculptures depicting endangered African wildlife.  They are sculpted in clay, cast in plaster, then sculpted again.  She hopes these wall hangings will encourage protection of these unique and beautiful creatures.
27. Jean T. Forsberg             Soil and Rocks (oils)                           $700
Jean Forsberg (Julian): "Accretion and erosion of color occurs, as I sense happens in soil-rock relations.  Formative process remains, as dabs, squiggles, marks flowing to concretion of 'significant form' that I try to birth.  A 'germ' of intent nudges the work and me on our cellular path to a space-time-matter place of grace; here, albeit willy-nilly, I stop."
28. Rob Fisher                                   Fish Hooks                                          $100 (pair)
Rob Fisher (Bellefonte) is a professional sculptor and computer design artist whose works hang around the world.  He cast these fish in stainless steel by the lost-wax process.  Each is initialed and dated.
29. Robert B. Nellis               Destiny (leaded glass window)           $675
Bob Nellis (Bellefonte) has been a very popular exhibitor at the Gamble Mill, and we hope to feature him in another show this year.  Destiny is a creation of the present but also includes the past.  The jewels, rescued from old church windows of the First Presbyterian Church of Bellefonte, came from France in the 1800's.
30. Roger W. Pollok  Bellefonte Bicentennial Medal, 1995 (bronze)            $650
Roger Pollok (Bellefonte) conceived, designed, sculpted, cast, and finished this medallion (five castings) as a gift from the arts to the town of Bellefonte.  It was inspired by those workers who built this town, indeed the whole county, through their labor in the iron industry.  It is also a tribute to his grandfathers and his father who spent their entire working lives producing steel.
31. Mary Mander                  How Moonlight Thinks (acrylic on paper)                  NFS
Mary Mander (State College, studio in Bellefonte) explains, "This work is figural, rather than representational.  It captures the logic of the moon, which evokes a sense of mystery and surprise.  In the light of the moon, all shapes are potential."
32. Michael Fels                     Fruit for Fido (mixed-media painting & print) $500
Michael Fels (Bellefonte) writes "The painting explores definitions of beauty both symbolic and metaphorical."