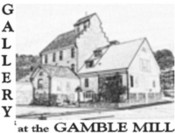 Bellefonte Historical and Cultural Association
Bellefonte, Pennsylvania
October 1997 Show
Gallery at The Gamble Mill



BHCA Home | Gallery Home | Current Shows | Archived Shows

Gallery at The Gamble Mill
presents
Watercolor: New Perspectives
Sponsored by
The Bellefonte Historical & Cultural Association (BHCA)
&
The Pennsylvania Council on the Arts
October 4, 1997 - November 15, 1997
Opening and Reception, October 7
AMY L. FINK
watercolors
 1.  The Lodge (collection of Ray S. Walker)                                                      NFS
 2. Venus Fly Trap                                                                                                                              $275
 3. Dutch Still Life                                                                                               $400
 4. Big Dipper                                                                                                      $400
 5. On the Rocks                                                                                                  $200
 6. Peony Bouquet                                                                                               $180
 7. Walker Garden: Chairs                                                                                   $280
 8. Rhododendron                                                                                                $170
 9. Waterfall                                                                                                         NFS
10. Ruth's Bouquet                                                                                              NFS
11. Glen MaLure, Ireland                                                                                    $350
12. Ship                                                                                                                $280
13. Ritz Theatre, Clearfield                                                                                  $250
14. Harbison Walker Plant                                                                                   $250
PATRICIA C. THALMAN
SHU-FA: AN ABSTRACT
Monotype Collage Series, Watercolor
Shu-Fa 1                                                                                                              $375
Shu-Fa 2                                                                                                              $375
Shu-Fa 3                                                                                                              $325
Shu-Fa 4                                                                                                              $385
Shu-Fa 5                                                                                                              $375
Shu-Fa 6                                                                                                              $275
Shu-Fa 7                                                                                                              NFS
Shu-Fa 8                                                                                                              $325
Shu-Fa 9                                                                                                              $325
Shu-Fa 10                                                                                                            $325
Shu-Fa 11                                                                                                            $425
Shu-Fa 12                                                                                                            $300
Shu-Fa 13                                                                                                            $325
Shu-Fa 14                                                                                                            $275
Shu-Fa 15                                                                                                            $325
Shu-Fa 16                                                                                                            $350
Shu-Fa 17                                                                                                            $325
Shu-Fa 18                                                                                                            $350
Shu-Fa 19                                                                                                            $350
Shu-Fa 20                                                                                                            $375
Shu-Fa 21                                                                                                            $150
Shu-Fa 22                                                                                                            $375
Amy L. Fink of Bigler has had an interest in art since she was in fifth grade and has drawn extensively all her life.  She has worked in watercolor since the later 1980's simply because she loves the look of the medium, in particular the ability to use clean, clear colors.
     Her teachers in watercolor have included Pete Winklbauer of St. Mary's and Ruth Kempner of Clearfield.  She is a member of the Susquehanna River Arts Council.  Her work has appeared in juried shows of the Clearfield Art Studio/Theatre, Blair County Arts Festival, Indiana New Growth Festival, and the Clearfield Hospital.
      She is now working on a series featuring homes in Clearfield.  She is also exploring the more abstract side of watercolor, as well as miniatures.
Patricia C. Thalman of State College received a B.S. in Interior Design at the University of Maryland.  She has worked with the education departments at the Albright-Knox Art Gallery and the Charles Burchfield Center in Buffalo.  After raising a family and a career in real estate, she returned to academic studies and completed the M.Ed. in Art Education at Penn State.  She is a member of the Art Alliance of Central PA.
     The graphically-beautiful symbols that compose Chinese calligraphy or, in Chinese, Shu-fa, so intrigued Pat that she selected them for her Master's thesis.  The monotype collages in this series, Shu-fa: An Abstract, celebrate line, shape and color.  Titled only by numbers, the abstract designs invite viewers to become active participants in the art experience by lending their own meanings to the works. 
     Graduate work also introduced her to monotype, a unique method that is a combination of painting and printmaking techniques.  She feels that this spontaneous process blends her interests in printmaking, watercolor, and collage and produces her most inspired works.