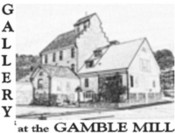 Bellefonte Historical and Cultural Association
Bellefonte, Pennsylvania
March 1997 Show
Gallery at The Gamble Mill



BHCA Home | Gallery Home | Current Shows | Archived Shows

Gallery at The Gamble Mill
presents
"I Am What I Am"
Sponsored by
The Bellefonte Historical and Cultural Association (BHCA)
&
The Pennsylvania Council on the Arts
March 8 - May 3, 1997
Opening and Reception, March 11
Benjamin A. Saggese II
1.  Tulips -- Declaring Love (acrylic)                                                                       $3800
2.  Angel of Light (print)                                                                                            $185
4.  Boardwalk to Home (pastel)                                                                                $800
5.  Man-- Spirit, and Temperament (print)                                                     $245
7.  A Farmer's Patience (print)                                                                                  $145
8.  Watercarriers (print)                                                                                            $145
9.  Sheep Among Wolves, Cunning Serpents, and Peaceful Doves (print)      $285
11. Holy Hour (acrylic)                                                                     NFS (print available)
12. Black Trees in Winter (print)                                                                               $185
13. Grandma's House (print)                                                                                    $145
14. Corn for Corn Soup (acrylic)                                                                              $750
15. Wagon Wheel and Fence (acrylic)                              private collection Stephen S &
                                                                                                                  Helen Smutzer
18. Morning Eggs (acrylic)                                                                           $3800
19. My Guardian Angel (acrylic)                                    private collection Kathryn Shope
20. Chicken Thieves (print)                                                                           $245
26. Portrait of Deborah (acrylic)                 private collection Deborah & Harrison Price
30. Angels of the Son (acrylic)                                                                                  $675
Jean P. Kizina
3.  Chinese New Year (acrylic)                                                                                 $375
6.  Vacation (acrylic)                                                                                              $1500
10. Material Things (acrylic)                                                                                    $3200
Material Things pits real-looking objects against the geometric illuminated rectangles used by the artist
16. Dreams (acrylic)                                                                                                 $375
17. Restaurant (acrylic)                                                                                           $1500
21. Family (acrylic)                                                                                       $700
22. Above The Bridge (acrylic)                                                                                 $900
23. Table Things (acrylic)                                                                     $600
24. Audra (acrylic)                                                                                       $700
25. Movie Lobby (acrylic)                                                                                        $600
27. Bud in Mexico (acrylic)                                                                         $1500
28. Village (print)                                                                                                        $70
29. Bella's Rooftop (print)                                                                               $70
Benjamin A. Saggese II works and runs The Guardian Angel Art Studio in a recently-renovated 100 year-old church in Munson.  He graduated from The Art Institute of Pittsburgh.  He has exhibited in many solo, group, and juried exhibitions.  Among these are The Hoyt Institute of Fine Arts, New Castle; Georgetown University; The Central PA Festival of the Arts juried exhibition, State College; and the Galleria de Arts Galleries in Taxco, Curnavaca, Mexico.  His work received the Award for Distinction from the Blair County Art Foundation.
      For a solo exhibition at The John T. Barclay Memorial Gallery of The Art Institute of Pittsburgh, a reviewer wrote:  "His works are grand examples of the power of harmonious relationship between subject and execution....  His paintings, which may appear reserved on the surface, hold a subtle playfulness and sense of continuing disclosure upon repeated viewings, characteristics which appear reflective of the artist himself.  Many of his paintings center around real or natural objects intersected by a spiritual imagery that explores the transcendent relationship of the two....  His  work can be best described as stirring....  But if one chooses to approach the paintings from a purely secular point of view, they still work.  Still ethereal, they transcend the known, but refuse to lapse into the obtuse."
Jean P. Kizina, who lives in Philipsburg, has degrees from Indiana University of PA and The Art Institute of Pittsburgh.  She is a member of The Associated Artists of Pittsburgh and the Susquehanna Arts Center of Clearfield.  Among her recent awards are the 1994 Purchase Award from Friends of the Pittsburgh Schools, Carnegie Museum, Associated Artists, Pittsburgh and the 1996 Southern Alleghenies Museum Triennial VI Award for Painting.  She has participated in 23 invited group shows and has had 14 one-person shows.  Her venues include the Westmoreland Museum, The Butler Institute of American Art, the Copley Society, the Art Alliance of Central PA, Bucknell University, the Stifel Fine Arts Center, The Southbank Galleries, and The Gamble Mill.
     The artist has been displaying distinctive, carefully-done geometric abstracts for many years.  Lately her works have become more architecturally geometric with realistic objects juxtaposing the abstract.  Critics have suggested that her work blends the fantasies of M.C. Escher with the flat architectural forms and neutral colors of early Renaissance painters.  Kizina is aware of these artists but "I like Escher but don't see any influence.  I look at other people's work and then do what I'm doing.  It's compulsive.... I knew at 5 I wanted to be an artist.  I'm thrilled with what I'm doing."  (quotes from Pittsburgh Post-Gazette)