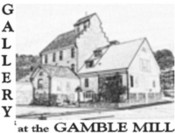 Bellefonte Historical and Cultural Association
Bellefonte, Pennsylvania
May 1997 Show
Gallery at The Gamble Mill



BHCA Home | Gallery Home | Current Shows | Archived Shows

Gallery at The Gamble Mill
presents
Frames of Reference
Sponsored by
The Bellefonte Historical & Cultural Association (BHCA)
&
The Pennsylvania Council on the Arts
May 3 - June 28, 1997
Opening and Reception, May 6
JUDY M. SHARER: Quilted Fiber Art
1.  Stained Glass Window                                                                        NFS
6. The Tropics                                                                                          $100
7. Stained Glass Cross                                                                             NFS
8. Feather Plume                                                                                        $90
9.  Welcome to the Jungle                                                                        NFS
12. Searching                                                                                             $70
13. Streamers                                                                                             $45
15. Buttons and Bows                                                                                $82
20. Autumn Leaves                                                                                    $82
21. Celebration                                                                                           $32
23. Pastels Please                                                                           $90
24. Tranquillity                                                                                          $85
25. Jewel of Inspiration                                                                              $60
26. Dimension                                                                                            $60
27. Woven Patchwork                                                                               $95
32. Burning Embers                                                                                   $80
35. Fly Away Confusion                                                               $90
37. Blue Ice                                                                                                $90
38. Calico Duck                                                                                       NSF
39. Bug                                                                                                      $67
40. Gypsy Dancer                                                                                    NFS
41. Sew Charming                                                                                     $60
49. HURRAH!                                                                                          $95
50. Joseph's Coat of Many Colors                                                           $110
DY WITT
2.  Irises (tile painting)                                                                                  $95
3.  Crows (handmade tile printing)                                                                 $65
4.  Ibis (handmade tile)                                                                                  $40
5.  Glads (handmade tile painting)                                                                $120
10. Grévy's Zebra (wall sculpture)                                                              $195
11. Grévy's Zebras (wall relief)                                                                  $120
14. Scarlet Macaw (handmade tile painting)                                                 $100
16. Florida Fauna (handmade tile grouping)                                                 $400
17. Golden Lion Tamarind Monkey (handmade tile painting)                        $85
18. Giant Panda (wall relief)                                                                         $45
19. Red Wolf (wall relief)                                                                           $175
22. Ginger (wall sculpture)                                                                            $40
28. Red-Crowned Cranes (handmade tile)                                                    $50
29. Red-Crowned Crane (handmade tile)                                                      $40
30. White Tiger (handmade tile painting)                                                     $125
31. Blue & Gold Macaw (handmade tile)                                                                    $120
33. Brown Pelican (handmade tile)                                                               $90
34. Southwest Chess Set" (with handbuilt oak wall rack)                              $350
36. Daffodils (one-of-a-kind carved relief tile)                                                $100
42. Masai Giraffes (handmade tile painting)                                                 $120
43. African Black Rhino (wall sculpture)                                                    $195
44. Orang Utan (wall relief)                                                                        $150
45. Reticulated Giraffe (one-of-a-kind wall relief)                                           $75
46. Zebra Family (one-of-a-kind wall relief)                                                    $75
  Frames on all works are handbuilt solid oak, handwaxed and rubbed
Judy M. Sharer of Port Matilda became interested in quilting when she took a class and joined the Centre County quilters' guild, Centre Pieces, in 1983.  She was one of the founders of the Clearfield Classic Quilter's Guild in 1995.  Over the years she has grown to appreciate the history of quilting, and she has taken several classes to learn new techniques, color theory and application, layout, and design.
     Now a quilting teacher herself, she enjoys sharing her knowledge and skills with others in hopes that quilting will be passed from generation to generation and from friend to friend.
     Her original technique on display here was created to utilize small pieces of fabric too small to be used in a traditional quilt block but too good to throw away.  Judy truly recycles fabric!  These small scraps are overlapped , leaving the raw edges of the fabric exposed.  The placement of color, the shape and the size of the scraps help to determine the design and layout of the wall hanging.  The design is then layered with batting and backing fabric, usually quilted by machine, and finished in matching or contrasting colored binding to frame the piece of art for display.
Dy Witt, a resident of Bellefonte, has worked 13 years in handling ceramic glazes, after 25 years in colored pencil work, doing wildlife and pet portraits.  She is fascinated with 3-D sculpture and relief tile as well as tile painting.  She writes, "Unlike other forms of artwork, which generally proceed from light to dark and background to foreground, ceramic paintings are layered from depth to height, rather like transparent sculpture.  Therefore, every layer must be planned for and painted identically three to five times to ensure even coverage in the firing.  Glazes are permanent and unforgiving.  Challenges are varied and many and always fascinating for me."
     Dy exhibits regularly at Temple Court Crafters in Bellefonte.