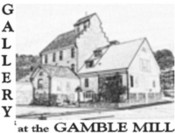 Bellefonte Historical and Cultural Association
Bellefonte, Pennsylvania
June 1997 Show
Gallery at The Gamble Mill



BHCA Home | Gallery Home | Current Shows | Archived Shows

Gallery at The Gamble Mill
presents
Perspectives of Central Pennsylvania
Sponsored by
The Bellefonte Historical & Cultural Association (BHCA)
&
The Pennsylvania Council on the Arts
June 28, 1997 - August 16, 1997
Opening and Reception, July 1
VANETTA J. IRWIN
1.  Plymouth Rocks (acrylic)                                                                     $375
3.  Autumn Sunset (pastel)                                                                        $225
8.  Centre County Farm Scene (pastel on canvas)                                        $400
12. Fisherman's Delight (pastel)                                                                $300
15. Grandmother's Quilt (pastel)                                                                $350
17. Water Wheel at Walker Gardens (Bigler, PA) (watercolor)                  $225
21. Merry Go Round at Bland Park (pastel)                                              $375
23. Geranium in Clay Pot (pastel)                                                 $225
25. Country Church (Clearfield County) (pastel)                                      $300
27. The Old Mud Church (Philipsburg) (pastel)                                        $175
LAURA MANEY
4.  Roses (oil)                                                                                            $500
5.  Indian Lookout (oil)                                                                             NFS
6.  Two Trees (oil)                                                                                    $600
9.  Sunflowers (oil)                                                                                   $400
10. Cat (oil)                                                                                               $300
13. Peony (oil)                                                                                           $60
19. Moon (oil)                                                                                           $450
22. Camp (oil)                                                                                           $500
26. Two Trees (ink drawing)                                                                      NFS
29. Butterflies (oil)                                                                                    $250
30. Field (oil)                                                                                            $500
SALLY SAMPLE
2.  Artist at Work (Craig Brady) (watercolor)                                             NFS
7.  Pennsylvania Wild Rhododendron (watercolor)                                    $325
11. Pennsylvania State Bird: Ruffed Grouse (watercolor)                          $200
14. Pennsylvania Wild Rhododendron (watercolor)                                     $79
16. Pennsylvania April (watercolor)                                                           $595
18. Kyles' Spring House (watercolor; limited edition print)                            $150
20. Reaching for Light (watercolor)                                                            $250
24. Gas Well (watercolor)                                                                           NFS
28. Pennsylvania State Flower: Mountain Laurel (watercolor)                   $325
31. We Took the Back Road (watercolor)                                                  $300
32. New Friend (watercolor)                                                                       NFS
Vanetta J. Irwin of Osceola Mills paints in what she calls the traditional mode.  She likes to create paintings that bring a sense of peace and serenity to the viewer in the depiction of a brilliant autumn sunset, the birds that visit her backyard feeder, and scenes of the everyday activities that go on around us.  Whether depicted scenes are familiar or memorable, paintings can give pleasure in viewing exciting shapes and colors.
     Most of her paintings are in pastels, her favorite medium because of their wonderful color and instant readiness.
     Vanetta is a member of the Susquehanna River Art Center of Clearfield.  Some of her recent exhibits are the S.R.A.C. Juried Show, the Blair County Juried Show, and Clearfield Hospital.
Laura Maney, a long-term resident of State College but recently relocated to Woodward, cannot remember ever wanting to do anything but paint. 
     She graduated from Penn State with a B.A. in art history.  Much of her in-depth work was on Cezanne.  She came to admire his non-use of perspective, his rich colors, and dark outlines.  His goal was to create art that was "solid and durable, like the art of the museums."  She particularly looked at his still-lifes and landscapes and felt he as a master at making inanimate objects appear lively, even anthropomorphic.
     With so much time spent on history, she has come to understand and accept her fleetingness on this Earth and, like Cezanne, she tries to make her subjects weighty and monumental.
     The Two Trees painting in this exhibit began as a simple ink drawing that she realized had the potential to become a good painting.  She has used multiple layers and textures.  The shower of leaves creates an airiness, and the uneven fence adds movement.  Rich colors and glazes complete the scene.
Sally Sample of Mackeyville says she has been painting forever.  She had fine teachers in Pittsburgh and in central PA.  But her efforts only really blossomed upon her retirement as a music teacher.  She has a continuing relationship with the Eddinger Memorial Art Class that meets in various locales in Lock Haven.
     Although she has worked in oils, she has been using watercolors primarily for several years, even for her portraits.  She turned to watercolors because they "allow for a lot of variation... It's just water and paint on paper."  Many of her subjects are the woods, flowers, scenes, and people around Mackeyville.