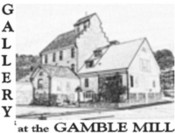 Bellefonte Historical and Cultural Association
Bellefonte, Pennsylvania
June 1998 Show
Gallery at The Gamble Mill



BHCA Home | Gallery Home | Current Shows | Archived Shows

Gallery at The Gamble Mill
presents
Abstract Progressions
paintings by Marla Lyn Jaksch
 & Barbara Ellen Campbell

Sponsored by
The Bellefonte Historical & Cultural Association (BHCA)
&
The Pennsylvania Council on the Arts
June 20 – August 8, 1998
Opening and Reception, June 23
MARLA LYN JAKSCH
oil & mixed media on canvas
                             2.    "192"                                                        $125
                                    3.    "RR5"                                                       $125
5.    untitled                                                      $200
6.    untitled                                                      $200
11.  Afterglow                                                  $125
14.  untitled                                                      $200
15.  Spring II                                                    $245
16.  Spring I                                                     $245
20.  Free to Knowing                                       NFS
BARBARA ELLEN CAMPBELL
oil & enamel on canvas
                             1.    Precarious                                     NFS
                                    4.    untitled                                                      NFS
7.    Grey Back                                     $100
8.    Funny Blight                                              $400
9.    Lively Sky I                                                 $50
10.  untitled                                                      $400
12.  Lively Sky II                                                $50
13.  Lively Sky V                                               $50
17.  untitled                                                      NFS
18.  Dead Waver                                              $100
19.  Veiled Inside                                             $100
21.  Scabby Sky                                               $400
22.  Lively Sky                                     NFS
Marla Jaksch has recently relocated to a sheep farm in Mifflinburg after many years in Philadelphia.  Marla received her B.F.A. in Painting and Drawing at the University of the Arts in Philadelphia, where she received the Painting and Drawing Department's most distinguished Stuart M. Egnal Prize for Excellence in Painting. She has exhibited in Philadelphia and the surrounding areas; this spring she was a juror for the Lewisburg Arts Festival.  She is an active member of the Commission for Women at Pennsylvania State University, Women's Caucus for Art, and the College Art Association.  Currently she is the Director of the Hetzel Union Center for the Arts and Crafts at The Pennsylvania State University.
     She writes "My work is inspired by the constant evolution of the landscape at and near my home.  Over the past year I have commuted from Rebersburg or Mifflinburg to State College and have come to love the light, contours, and texture of the valleys in which I travel.  I also garden and am amazed at the subtleties and complexities in nature.  From those experiences I have collected many images and feelings and have incorporated them into my paintings.  I see this group of paintings as an assemblage of memories fading in and out of view, ever constant, ever changing."
Barbara Campbell recently received her BFA in painting and drawing from Penn State.  This fall, she will be beginning an MFA program at the University of California, Berkeley.  Campbell has received numerous honors for her paintings, including a Creative Achievement Award at Penn State and an Ellen Battell Stoeckel Fellowship to attend Yale University's Summer School of Art and Music in Norfolk, CT.
     She sees her paintings as internal landscapes deriving inspiration from the surface of old walls, turbulent, stormy skies and human skin – a physical record of our movement through the world.