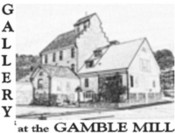 Bellefonte Historical and Cultural Association
Bellefonte, Pennsylvania
November 1999 Show
Gallery at The Gamble Mill



BHCA Home | Gallery Home | Current Shows | Archived Shows

The Bellefonte Historical & Cultural Association (BHCA)
Gallery at The Gamble Mill
presents
BELLEFONTE AT THE MILLENIUM: THEN, NOW, AND TO BE
A look at Bellefonte's glorious past, transformations to its present, and a peek at its future through old and new photographs, drawings and paintings, and architectural drawings
Funded in part by
The Borough of Bellefonte
&
The Pennsylvania Council on the Arts
November 13 – December 23, 1999
Opening and Reception, November 16
JOHN FALATOVICH (color photography)
1.  View East Across Allegheny Street from The Linn House                                                NFS
4.  100 Block of High Street                                                                                                   NFS
5.  Temple Court & Episcopal Church Spire from Brockerhoff Roof                         NFS
BEVERLY KLUCHER
(painting)
2.  High Street                                                                                                             NFS
OLGA HOOLEY (watercolors)
14.  Concert in the Park                                                                                                           $350
STEVE HEVERLY (photography)
19.  Bellefonte Elks Club (hand-tinted B&W)                                                                          $85
20.  Bellefonte Big Spring (hand-tinted B&W)                                                                         $85
21.  George A. Miller Hardware (hand-tinted B&W)                                                   $85
22.  Bellefonte Old Home Week Parade (hand-tinted B&W)                                                   $85
23.  Bellefonte Library (hand-tinted B&W)                                                                              $85
26.  A Bellefonte Photo History (collage)                                                                               $175
30.  Bellefonte Train Station – Snow (SX-70 enlargement)                                                      $75
31.  Bellefonte To Be (SX-70 enlargement)                                                                              $75
34.  The Mill (SX-70)                                                                                                            
BILLY MILLS
(paintings)
16.  Laundry at Centre Crest, ca. 1930s                                                                                  NFS
17.  View from Half Moon Hill                                                                                              NFS
GUY BROWN
(paintings)
27.  Bush Arcade                                                                                                                    NFS
28.  Gamble Mill                                                                                                                     NFS
29.  Hastings Mansion                                                                                                  NFS
SUSAN STRUBLE
(pencil drawing)
15.  Gamble Mill                                                                                                                     NFS
ROB GANNON
(photography)
14.  Bush House                                                                                                                      NFS
32.  Reflection of the Past: The Big Spring                                                                             NFS
JIM DUNNE
(photography)
6.  State Theatre/Garman Opera House, ca. 1972                                                                   NFS
7.  Crider Exchange                                                                                                                NFS
8.  Gazebo & Train Station, Talleyrand Park                                                                          NFS
11. Brockerhoff Hotel, ca. 1972                                                                                              NFS
DAVID HAMILTON
(B&W photography)
24. Tribute to Bellefonte Fire and Rescue Squads, ca. 1970s                                    NFS
PAST AND FUTURE
3.   Photograph of a large painting owned by the Logan Fire Company: Reynolds Bank Building Fire.  Painted by Charles P. Hilder (1855-1927) in 1887.  Hilder lived in Bellefonte from 1884-1887.  The bank is on the corner of S. Allegheny and High Streets. 
9.  Student Interpretations on Bellefonte: one of the urban plans produced by student architects at Penn State under the direction of Assistant Professor Christopher Diehl, 1999-2000
10.  Things Remembered… Center, The Big Spring.  Clockwise from upper left: (1) Home removed at corner of Allegheny & Howard Streets, replaced by commercial building.  (2) & (3) Former home of Daniel Bush on S. Spring Street, remodeled for Markland Hotel; now home to the VFW. (4) The Valentine home on the corner of Bishop & S. Allegheny converted to the Brant Hotel, now the site of Mike's Video building. (5) Former home of P. Gray Meek on W. High Street, currently a municipal parking lot across from the Train Station. (6) Early home on High Street, converted for use as YMCA; torn down when YMCA rebuilt. (7) Home removed at corner of Howard and Allegheny, replaced by Centre County Library. (8) The McClain Building, replaced by Talleyrand Park. (9) & (10) Brockerhoff Hotel, burned and rebuilt in 1865; redesigned by Robert Cole in the 1890s by adding a fourth floor and interesting roof design; presently a Senior Citizens Residence. (11) Former home of Andrew Gregg Curtin, presently the Bellefonte Elks Lodge. (12) Home at corner of Howard & Allegheny, replaced by Post Office. (13) Former home of James Beaver on the corner of W. Curtin and N. Allegheny, replaced by present house. (14) Early home adapted for use as Beezers Meat Market, removed and replaced by G.C. Murphys, now the Bellefonte Bakery.  Photos assembled for the Bellefonte Bicentennial Calendar
25. Pine Street at the top of Stoney Batter, ca. 1870s.  One of the houses was the caretaker's cottage for the Friends' meetinghouse.  Anonymous but perhaps attributable to Jeremy Wilson.  Original in the Centre County Library and Historical Museum.
33. Talleyrand Park Footbridge Design, by Kerry A. Uhler & Associates, Bellefonte.  Creation of the park by the Talleyrand Park Committee, now a part of BHCA, was a key element in the revitalization of Bellefonte and, at the time, a vision of the future.