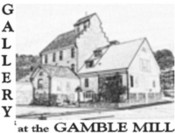 Bellefonte Historical and Cultural Association
Bellefonte, Pennsylvania
June 1999 Show
Gallery at The Gamble Mill



BHCA Home | Gallery Home | Current Shows | Archived Shows

The Bellefonte Historical & Cultural Association
Gallery at The Gamble Mill
 presents
NEW WORKS
Mary Thompson & Alyce Ritti
Funded in part by
The Borough of Bellefonte
&
The Pennsylvania Council on the Arts
June 19 – August 7, 1999
Opening and Reception, June 22
MARY THOMPSON
(all wood engravings in black and white)
1. Succulents  10" x 8"
2. Roses  10" x 8"
3. Winter  4" x 3"
4. Four sunflowers  5" x 8"
5. Cactus  4" x 3"
6. Window  4" x 3 ¾"
7. Aloe  5" x 8"
8. Dinner for Six  14" x 11"
9. Palm House  14 x 11"
10. Leaves  4" x 3"
11. Rugosa rose hips  6" x 4"
12. Swedish Ivy  3" x 2"
13. Paper Whites  3" x 2"
14. Roses, roses  8" x 5"
15. Rhododendrons  8" x 5"
16. Impatiens 10" x 8
ALYCE RITTI
(all mixed media collage)
17. Tender Buttons, Gertrude Series
18. Pride, Seven Deadlies Series
19. Too Many Cooks Spoil the...
20. Wrath, Seven Deadlies Series
21. Sloth, Seven Deadlies Series
22. Now/Then, I
23. Now/Then, II
24. Now/Then, III
25. Who Saw Icarus Fall?
26. Beauty Is in the Eye of the Beholder
27. Atlas Shrugged
28. Family Secrets
29. Envy, Seven Deadlies Series
30. Alas, Gertrude Series
31. Lust, Seven Deadlies Series
32. Gluttony, Seven Deadlies Series
33. Avarice, Seven Deadlies Series
34. Rose Is..., Gertrude Series
Alyce Ritti of Port Matilda writes: "Living '60 plus' years in the 20th  Century has given me a strong comic spirit. Using unusual materials in mixed media collage and assemblage allows me to work with serious subjects in playful ways.  My current work continues the collage tradition  of commenting on human behavior. There is no end of 'inspiration' in that. For some entertaining  information about my work and myself please visit website  http://www.artaddiction.se/ritti.htm"
Mary Thompson of State College has had work in a number of juried exhibitions, most recently The Sage National Juried Small Print Exhibition (New York, 1997), the 7th Annual Elizabethtown College Juried Art Exhibit (1997, honorable mention), the 17th Annual National Print Competition at Artlink (Fort Wayne, 1997), Images'97, Central PA Festival of the Arts (honorable mention), Printwork '98--Barrett House Galleries, and Images of Pennsylvania Rural Life, First Annual PA Farm Show Scholarship Foundation Art Exhibit (Harrisburg, 1999, second place).  She has written or illustrated, or both, ten books, many on gardening, including Wild Food Plants of the Sierra, 1972 (in pen and ink), In the Garden with Derek, 1996 (in pen and ink), Andy and His Yellow Frisbee, 1996 (in watercolor), and Jane Pepper's Garden, 1997 (in pen and ink).