Bellefonte Historical and Cultural Association
Bellefonte, Pennsylvania
The Fred D. Smith Collection of Photos and Postcards One Block West of the Diamond: Spring Street

BHCA Home | Photo Galleries Home | Virtual Tour Home | Center Town Map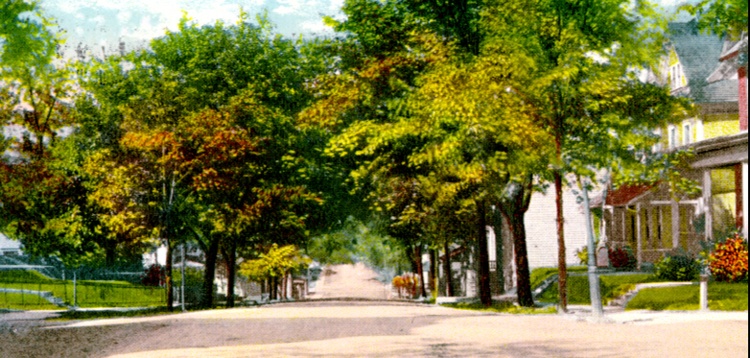 Spring Street, looking north from near Howard Street. Fred D Smith Collection
Click on the thumbnails to enlarge the images:

Quaker Meeting House ~1900
on Stoney Batter, just off Spring. Built in 1831 and used until World War I. Now the Knights of Columbus

The home of Daniel Bush on S. Spring St. between Bishop and High. Go to the Virtual Walking Tour, Stop 30, Bush Residence, to see how it looks today.

The Bush Home on Spring St. was remodeled for the Markland Hotel, and later for the VFW.

Former house at the NE corner of Bishop and Spring, destroyed in 1961 for a gas station. Many historic structures were lost in that period.
This was the home of Henry Brockherhoff, builder of the Brockerhoff Hotel and a wealthy merchant, banker, and landowner. The front door of the house was rescued and now is at the State Museum of Pennsylvania.

Old Post Office
100 block of N. Spring

Methodist Church
at Howard and Spring

First Presbyterian Church at Spring and Howard Sts.
First church building in Bellefonte. Originally a simple structure, it was remodeled in 1839 to a Greek Revival style, but torn down and replaced in 1868.

Presbyterian Church at Howard and Spring
the chapel

Presbyterian church
the chapel

Presbyterian church
1913 topping of the spire

View west on Howard to Spring
Methodist church on left and Presbyterian church center

Looking north on Spring Street from Howard

The Armory at Spring and Lamb Streets
Built in 1894 by Col. W Fred Reynolds and turned over to the National Guard, the largest Guard Armory in Pennsylvania at the time

The Armory

The Armory

The Reformed Church, now UCC
at Spring and Linn Streets

McCafferty House
at Spring and Curtin Streets

Rear of McCafferty House