of Bellefonte, Pennsylvania
Bellefonte Historical and Cultural Association (BHCA)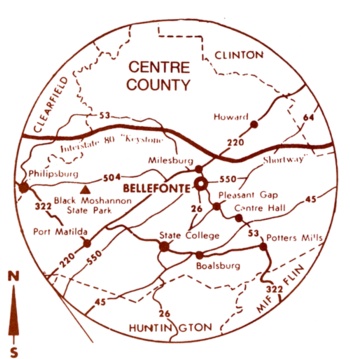 The Talleyrand Park Citizens Committee of BHCA has produced various editions of a map and notes for a Historical Walking Tour of Bellefonte. The first edition was produced by the Bicentennial Committee of the Bellefonte Rotary Club in 1976. Walking tour stops are denoted on an 1874 map from The Atlas of Centre County Pennsylvania by Beach Nichols, A. Pomeroy & Co. Philadelphia, 1874. BHCA periodically conducts walking tours in the central parts of Bellefonte.
This is a Virtual Walking Tour, based largely on the Walking Tour Map, and with text from The Walking Tour Map. The historical images are from the Fred Smith Collection, which is gratefully acknowledged.
You can also access the individual pages from the walking tour map and a blown-up map showing the center of town. Or you can take the entire tour, in sequence, by clicking "Next Page" at the top of each stop page.
Bellefonte displays many structures over 100 years in age, largely in authentic style, in part because Bellefonte Borough created, in 1970, a local historic district. Changes in existing structures or new construction must be considered by HARB, the Historic Architectural Review Board. HARB provides a link to Bellefonte Historic Sites Map, where you can click on sites of historic homes and buildings to see a description and old and modern photos.
Click here for our Local History Information Series.