Bellefonte Historical and Cultural Association
Bellefonte, Pennsylvania
Fred D. Smith Collection of Photos and Postcards of the Bellefonte Academy
Virtual Walking Tour Stop 31

BHCA Home | Photo Galleries Home | Virtual Tour Home | Center Town Map | Next Virtual Tour Stop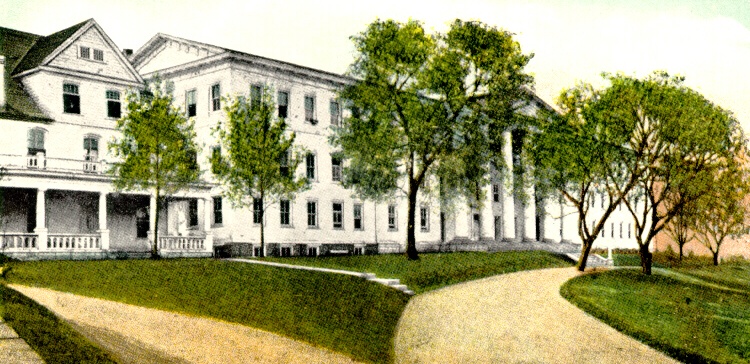 The Bellefonte Academy. Fred D Smith Collection
The Bellefonte Academy was a private preparatory school with a national reputation. The founders of Bellefonte, James Dunlop and James Harris, were interested in establishing an institution of learning, and it was incorporated by Act of the Pennsylvania Legislature in 1805. "The Bellefonte Academy has educated more governors, more senators, more judges, and more public men ... than any other school in Pennsylvania." [The Philadelphia North American, 1909] Rev. James R. Hughes was headmaster from 1868-1900, when his son James R. Hughes took over and served until the academy closed. The school had notable success in football, beating Penn State 6-5 in 1908 and playing Texas and Oklahoma schools in the 1926 football season to claim the National Prep School Championship. The building underwent many architectural changes, with its Greek Revival pillars dating back to 1904. After closure in 1934, due to the Depression, it was converted into apartments. It burned to the ground in 2004. It was located on the knoll at the foot of West Bishop Street.
Click on the thumbnails to enlarge the images:

Bellefonte Academy ~1907

Bellefonte Academy 2

Bellefonte Academy 4

Bellefonte Academy 5

Bellefonte Academy 6
showing Academy and the headmaster's house

Bellefonte Academy 7
headmaster's house from the front gates

An academy gate and headmaster's house in 2006

Bellefonte Academy 9
~1915

Bellefonte Academy 9
looking out the gates and down Logan St.

Bellefonte Academy 12

Bellefonte Academy 13

Bellefonte Academy 14
advertisement