Virtual Walking Tour of Bellefonte, Pennsylvania
The Talleyrand Park Citizens Committee
Bellefonte Historical and Cultural Association
BHCA Home | Virtual Tour Home | Center Town Map
Original Layout of Bellefonte, Pennsylvania
This is the original layout of Bellefonte, laid out by John Dunlop and James Harris about 1795. John Dunlop and James Dunlop had purchased land from William Lamb. The copy was recorded in the Courthouse in 1927. Note the concentration of property owners between Spring Street and what would become Water Street. It is also curious that the first houses of the founders were built on High Street, but there are no named properties there. Naming of The Academy and the lot of James Linn, as well as dates on the map, would place the names as some time after 1805-1810. Scan of the map courtesy of Richard Knupp, Sr.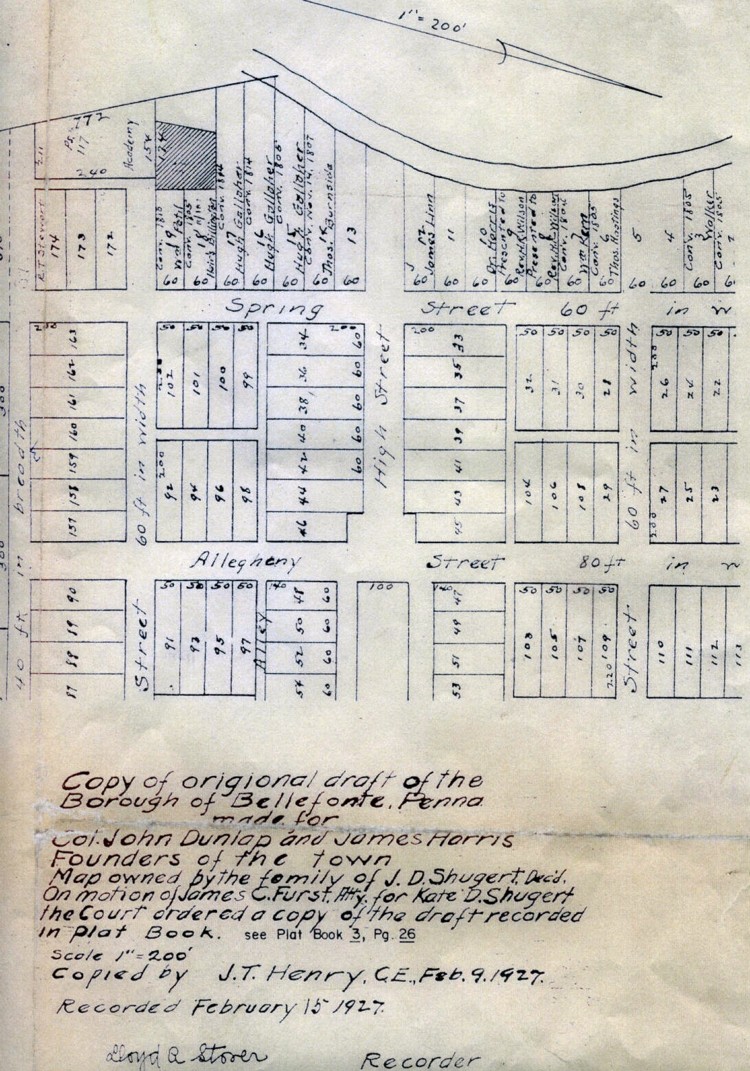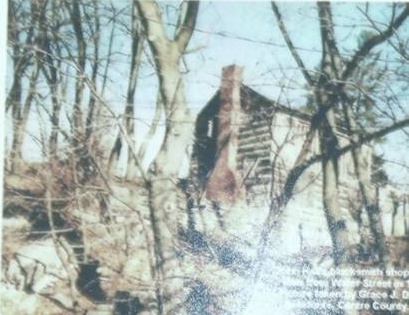 Lot number 1 on the plot faces on North Spring Street but is just off the scan. That lot is in the middle of the block three houses north of the Presbyterian Church. According to Richard Knupp, Sr. in Bellefonte Secrets (February 2012), John Hall came to the area to operate a blacksmith shop around 1774. He owned the parcel that became Lot 1. Thus he probably lived in what became Bellefonte twenty years or more before the town was laid out about 1795 (see above) and before the nominal date for the first house in Bellefonte, 1797.
About 1974 Jack Yeager owned a house on this lot, behind which were the ruins of the original log house. Yeager rebuilt the building but used slab wood and mortar instead of logs. The picture of that reconstructed building (right) was taken by Grace Decker Hall, wife of Dick Hall, a descendant of John Hall. Today only the foundation of the building remains.