Virtual Walking Tour of Bellefonte, Pennsylvania
The Talleyrand Park Citizens Committee
Bellefonte Historical and Cultural Association
Stop 38. Quaker Meeting House

BHCA Home | Virtual Tour Home | Center Town Map | Next Stop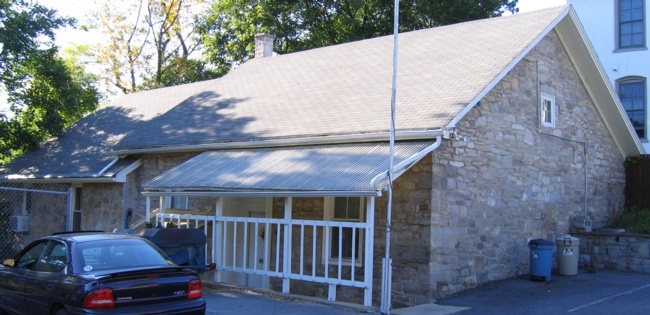 Located on Stoney Batter, at its intersection with Pine Street, and built in 1831, the Quaker Meeting House was used until World War I. Quaker Ironmasters played a prominent role in the early industrial history of Bellefonte. Now the Knights of Columbus hall.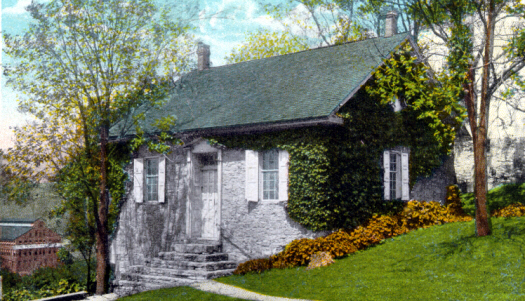 A historical postcard. Fred D Smith Collection. This is probably the caretaker's cottage.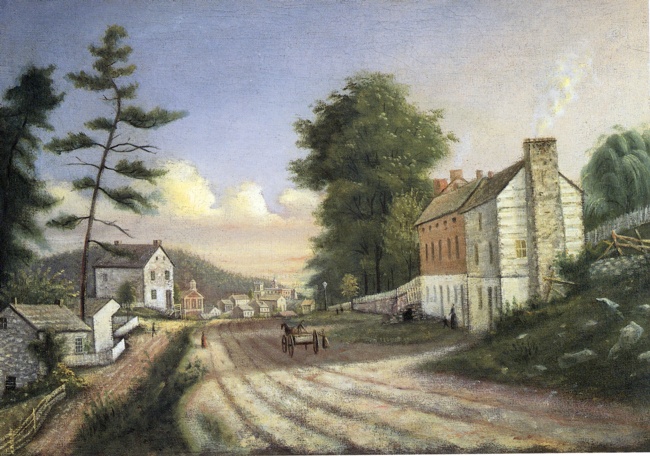 Pine Street, Bellefonte, ca. 1870-80. Anonymous oil on canvas, courtesy of Centre County Library and Historical Museum, and featured in Bellefonte Collects, a 1989 catalog from the Palmer Museum of Art, The Pennsylvania State University. The catalog notes say "On a road bordered by houses and trees, a horse-drawn wagon travels by. One of the houses was the caretaker's cottage for the Friends' meetinghouse.... The work may be attributable to nineteenth-century painter Jeremy Wilson." The wagon traverses Pine Street, and Stoney Batter comes up the hill, on the left, to meet it. The caretaker's cottage is at the far left, on Stoney Batter.