Local History Information Series
Bellefonte Historical and Cultural Association
BHCA

A Local History Information Series was written by Kathleen Wunderly, former Arts Administrator of BHCA, with a grant from The Centre County Community Foundation. Hardcopy pamphlets can be obtained at The Bellefonte Intervalley Chamber of Commerce at the Train Station in Talleyrand Park. One article is linked here: Bellefonte and Penn State.
We also have an article on Anna Keichline, Bellefonte Architect.
And click here for Bellefonte Industries Historical Resources Series: the heritage of the Spring Creek waterfront.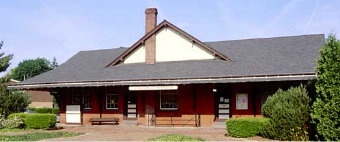 The Train Station at Talleyrand Park