Local History Information Series
Bellefonte Historical and Cultural Association
BHCA


BHCA Home | Local History Home
Anna Wagner Keichline: Bellefonte Architect
by Kathleen Wunderly
Anna Wagner Keichline was born on May 24, 1889, in Bellefonte. With supportive parents, native intelligence, and an extroverted personality, Anna was in the news by age 14 (the Philadelphia Inquirer, Oct. 18, 1903) as a woodworker, winning first prize at the county fair for an oak card table and a walnut chest.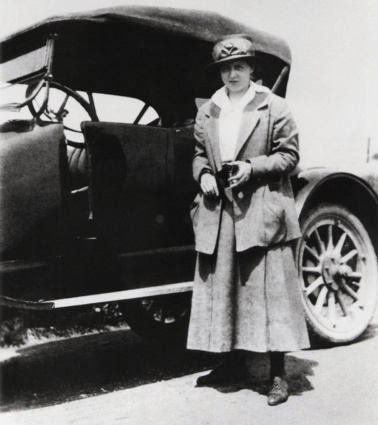 "Such a liking has she taken to industrial art that Miss Anna Keichline expects to make it her life study," the article reported.

She enrolled at Pennsylvania State College (now Penn State University) in 1906, the only female in the mechanical engineering program, but transferred to Cornell University in 1907 to study architecture. She also was a class officer, in the drama club, and on the women's basketball team.
Anna graduated from Cornell in 1911, the fifth woman to receive an architecture degree from that institution. After graduation, she returned to Bellefonte to pursue an architectural practice. By April 1912 she had applied for the first of the seven patents she eventually was awarded, for a foldaway sink and drainboard combination. In that same year she designed a school in nearby Milesburg, still existing as a private home. It is interesting to note that all of Anna's identifiable buildings in central Pennsylvania are still in good condition and regular use.
An open advocate for women's rights, Anna led a parade of suffragists in the 1913 Fourth of July parade in Bellefonte. By this time she was sharing an office with her father, John, who was a lawyer and later justice of the peace.
Bellefonte had good rail connections, and Anna visited clients in Altoona, Philadelphia, and elsewhere, though the majority of her known projects were in her own town or nearby. In 1915 a church of her design (still in use) was dedicated in Mill Hall, Pa., and a news article about the building described her as "Miss Anna Keichline, the successful young architect of Bellefonte."
Private homes and an automobile dealership with rental apartments above, all in Bellefonte, were among her designs in the next few years. In settlement of a client fee in 1917, she accepted an automobile and learned to drive and take care of it. That year her fees amounted to $6,000 – more than $86,000 in today's dollars.
Bellefonte provided its first 152 recruits for World War I in September 1917, and by January 1918 the first county man had died in France. Near the death notice, one of the local newspapers urged, "Young Man, You Can Volunteer."
Anna did, also, writing to Capt. Harry A. Taylor of the U.S. Army, Military Intelligence Division, on February 6. "Am twenty-eight and physically somewhat stronger than the average," she told Taylor. "Might add that I can operate and take care of a car. The above [summary of education and professional experience] would suggest a drafting or office job, but if you should deem it advisable to give me something more difficult, or as I wish to say more dangerous, I should much prefer it."
Her application was accepted and she served as a Special Agent until the end of the war in November 1918. Full details of her service, performed in Washington, D.C., are not known, despite several requests under the Freedom of Information Act, but seems to have been limited to research and report preparation. Letters from her superiors upon her resignation praised and thanked her.
In July 1919 the Pennsylvania State Board of Examiners of Architects was established "to regulate the practice of architecture," and Anna's application for certification was submitted in April 1920. Her application was passed without comment, and she became the first female certified architect in the State of Pennsylvania, one month before her 31st birthday.
She continued to design buildings and pursue patents, three in 1924 alone, and all of them granted. One was for a kitchen "so designed as to involve the minimum amount of labor on the part of the housekeeper and to reduce the operative cost"; the second was for a bed "designed to fold into the wall structure of an apartment"; the third was for a foldable partition to form a play and storage enclosure for children. Though never marrying or having children, Anna was a devoted aunt to the seven offspring of one of her brothers.
In 1926 Anna received a patent for a hollow-walled building block, known as the "K-Brick," notched and slotted so that it could be fractured and used in various shapes on a construction site. At that time she also designed a country clubhouse in Mount Union, Pa., and a private home in Bellefonte.
More homes and apartment buildings emerged from Anna's drawing board in the 1930s, until her health began to decline.
Anna Wagner Keichline died of cancer at her lifelong family home on Bishop Street in Bellefonte on February 5, 1943.
Through the efforts of her great-niece, Nancy J. Perkins, FIDSA, AWID, of Murfreesboro, Tennessee (herself an industrial designer and principal of Perkins Design Ltd.), and various Bellefonte citizens, Anna Keichline was honored with an official state historical marker on October 12, 2002. It stands in front of one of her buildings, the Plaza Theater, on W. High St., now an antiques cooperative.
Click here to view a YouTube Video produced by the Centre County Historical Society
Bellefonte Walking Tour Sites
associated with

Anna Wagner Keichline

These sites are keyed to the "Historical Walking Tour Map of Bellefonte" map available at the Train Station and elsewhere in town. The map is a project of the Talleyrand Park Committee of the Bellefonte Historical and Cultural Association. These sites can also be viewed on the Virtual Walking Tour webpages, which are hyperlinked below.

#10B: Plaza Theater, next to #10, Curtin House
The Plaza Theater was designed by Anna Wagner Keichline in 1925. The 2002 state historical marker in her honor is on the sidewalk nearby.

#19: Linn House, home to The Bellefonte Art Museum for Centre County
Photographs, architectural drawings, and other materials related to Anna Keichline were at one time exhibited at the Museum, but those materials are now on tour.

#13: Reynolds Bank/Temple Court Row
Anna shared offices with her attorney-father on the second floor of the Temple Court, opposite the Brockerhoff.

#36: Union Cemetery
Burial place of Anna Keichline.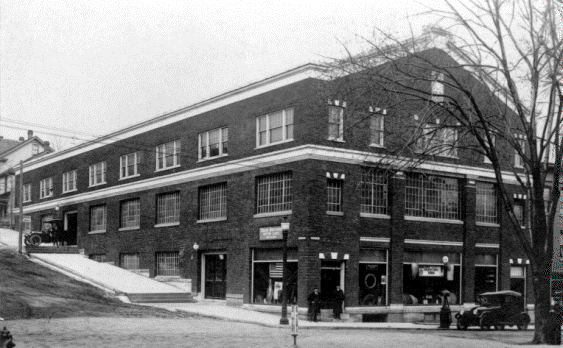 In addition to the Plaza Theater, another downtown building designed by Anna is located at the southwest corner of Allegheny & Bishop Sts.: the Cadillac Building, originally a car dealership and apartments and subsequently offices and apartments. The interiors were completely gutted by a fire a few years ago, but the walls are standing.
The first floor was a salesroom. Access to the second-floor parking and auto storage was from an entrance on S. Allegheny Street (far left in the photo). The Cadillac brand, in addition to its association with luxury, was an early leader in innovative technology, simplified repairs, and an appeal to the female market.