Virtual Walking Tour of Bellefonte, Pennsylvania
The Talleyrand Park Citizens Committee
Bellefonte Historical and Cultural Association
The Naming of Bellefonte

BHCA Home | Virtual Tour Home | Walking Tour Map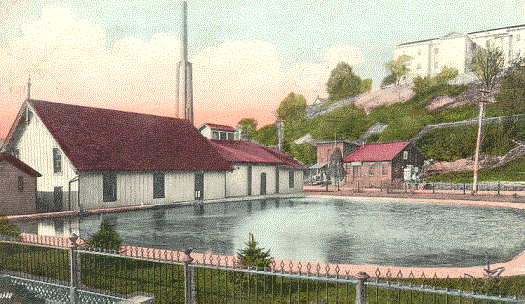 The Big Spring. Fred D Smith Collection
A story in John Blair Linn's (1883) History of Centre and Clinton Counties relates that the French statesman Charles Maurice de Talleyrand visited the Big Spring with Mrs. Ann Dunlop Harris (1765-1844) and exclaimed "La belle font," leading her to suggest the name Bellefonte to her father Col. James Dunlop and her husband James Harris, who together laid out the town in 1795. Talleyrand in fact was in exile in America from the French Revolution, from March 1794 to June 1796. His principal residence during that time was a rented house in Philadelphia. On a visit to nearby Centre Furnace, he may have come to Bellefonte to visit James Harris, and may have seen the spring. The story was relayed to Linn by Mary Orbison of Huntington County, who was the great-granddaughter of Ann Harris. A file at the Centre County Historical Library contains, however, letters from other descendants who did not believe the story to be true.
In various versions of the story, the word used was font, fonte, or fontaine. Font is not a French word. Fonte means a casting in metal. Fontaine does indeed mean fountain. The Big Spring, in recent years, has been a quiescent body of water. But until Water Street was carved out of the steep bank, the spring did bubble out of the side of the bank and cascade down in a fountain-like manner.
Dick Knupp, Sr. has an alternative explanation: "John Dunlop called his forge Bell Font Forge [along Logan Run, south of Bellefonte] because the French word font has nothing to do with water, as believed locally, but does mean casting. The only time water is involved with a font is when water is placed in the casting used in religious ceremonies. In the eighteenth century the finest iron went into the casting of bells. The words Bell Font have a symbolic meaning, that the finest iron is made here. Over the next fifty some years the Bell Font forge, later called the Valentine Forge and eventually Cerro Copper and Brass, lived up to its name. In 1797 John Dunlop purchased a parcel of land called Innocence from William Lamb. He then gave the piece of land to his father James Dunlop and brother in-law James Harris to build a town. That town was named after the Belle Font Forge."