Virtual Walking Tour of Bellefonte, Pennsylvania
The Talleyrand Park Citizens Committee
Bellefonte Historical and Cultural Association
Stop 15. Garman Opera House

BHCA Home | Virtual Tour Home | Center Town Map | Next Stop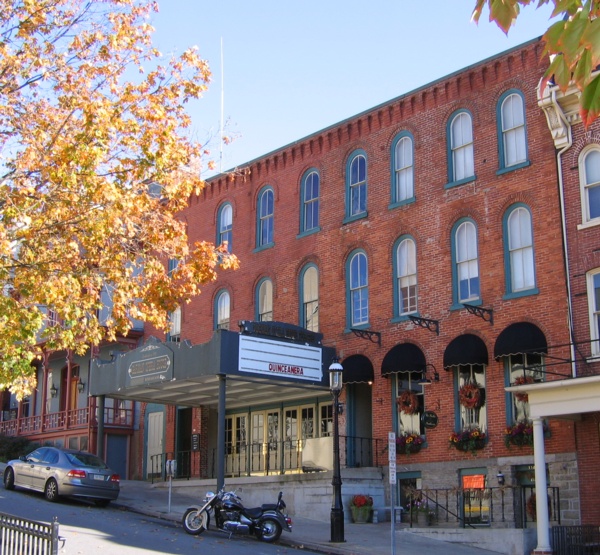 Located on East High Street on the south side of the Courthouse, next to the Garman House. Later known as the State Theatre, it was constructed next to the Garman House in 1890. This Theatre added another attraction to the busy world of fashion and culture. The song "After the Ball is Over" was first sung in public here. The theatre was host to the likes of George Burns and Gracie Allen, Houdini, the Flora Dora Girls, and a myriad of Wild West and one-act shows. In the 1900s it started showing films, first silent and then talking, but the last movie was shown in 1961. It then became a warehouse. It was restored in the 1990s as a stage performance center and then turned back into a movie theatre as well as performance center. In 2006 the rear portion was expanded upwards with guest rooms and suites. That venture did not, unfortunately, meet with success. In September 2012 the neighboring Garman House (Do-De Hotel) was destroyed by fire, and the roof and upper floor of the Opera House were damaged. Nevertheless, two independent reports by structural engineers in 2013 found the building to be structurally sound and therefore, in principle, to be restorable.
In 2013 the Bellefonte Area Industrial Development Authority, acting as Conservator, took possession of the Do-De and Opera House properties under the Pennsylvania Abandoned Property Conservatorship Act. BHCA made a proposal to the BAIDA to take possession of the Opera House, to erect a new roof to prevent further damage, and then to develop it as a Regional Arts Center. BHCA secured sufficient donations and grants to erect the roof. Nevertheless, the BAIDA sold the Garman and Do-De properties, as well as the burned-out Cadillac Building, to a developer. The developer proposed to erect workforce housing on the site of or within all three properties. The sale was approved by the Centre County President Judge, a decision upheld by Commonwealth Court. In January 2014 the Do-De and Opera House were completely razed. For a website devoted to the Save the Garman campaign, click here.
In the historic photo below, the Opera House is on the left.
Click here to view a gallery of historical images of the Garman and The Diamond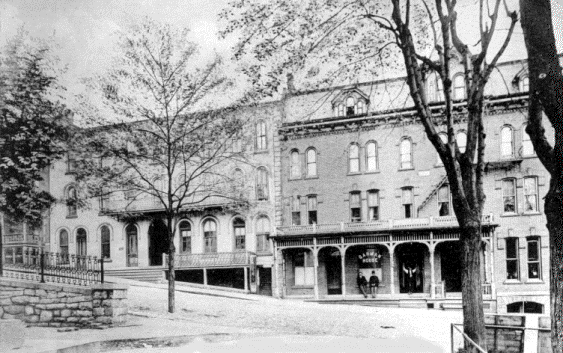 Fred D Smith Collection. Opera House on the left and Garman House (Do-De) on the right