Virtual Walking Tour of Bellefonte, Pennsylvania
The Talleyrand Park Citizens Committee
Bellefonte Historical and Cultural Association
Stop 41B. The Match Factory

BHCA Home | Virtual Tour Home | Center Town Map | Next Stop

The Pennsylvania Match Factory was one of the leading producers of wooden matches during the first half of the 20th century. It was founded in 1899 by Bellefonte entrepreneurs, including Col. W Fred Reynolds. The factory buildings opened in 1900, utilizing the vast resources of the surrounding region. By World War II, the company had merged into the Universal Match Corporation, and the workforce had grown to 400. The factory closed in 1947 due to competition from book matches and cigarette lighters.
The Match Factory is located a few hundred feet west of The Big Spring (just across the tracks from "Bellefonte Park Association" on the center town map). Some of the many buildings of the factory complex, on the "Corporation" end, have been renovated into the national headquarters of the American Philatelic Society.
A state historical marker stands on Willowbank Street (Route 150) at the entrance to the factory area.
Click here to view a historical gallery of the Big Spring, Match Factory, and the Talleyrand Park area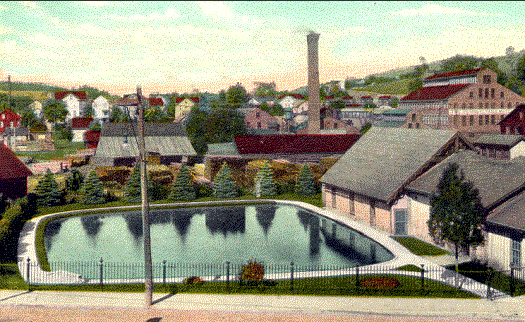 This historic postcard shows The Big Spring and, to the west, the Match Factory. Fred D Smith Collection