Bellefonte Historical and Cultural Association
Bellefonte, Pennsylvania
Fred D Smith Gallery of Postcards and Photos of The Big Spring, The Match Factory, and the Falls on Spring Creek: The Talleyrand Park Area
Virtual Walking Tour Stop 41
BHCA Home | Photo Galleries Home | Virtual Tour Home | Center Town Map | Next Virtual Tour Stop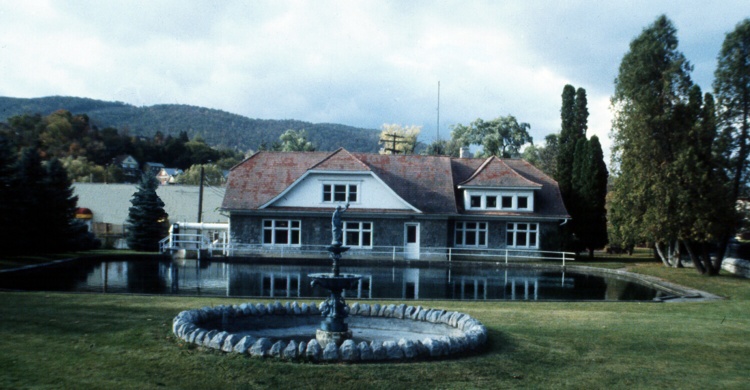 The Big Spring and the Pumphouse, before the spring was covered. Fred D Smith Collection
The Big Spring is the defining element of Bellefonte. By one account, the French statesman Talleyrand indirectly suggested a name for Bellefonte to Mrs. Ann Dunlop Harris, about 1795, when visiting the spring.
The spring is still the domestic water source for Bellefonte as well as other communities, with a daily flow of 11,500,000 gallons. Major William F Reynolds gave The Big Spring to the town on October 1, 1879 for the price of $1.00. The present pumphouse was built in 1926 and was restored in 2006. The spring is now covered with a synthetic fabric because of environmental regulations (see the picture in the fifth row below).
The Match Factory was run by the Pennsylvania Match Company and later by the Universal Match Company. In 1911 it was one of the eight largest match factories in the nation. Despite a surge in production during World War II, by 1947 operations at the factory had ceased. Now the home of The American Philatelic Society, it lies a few hundred yards to the west of the Spring. The land between the Match Factory and the Spring and the land to their north is the present-day Talleyrand Park, including the Falls on Spring Creek.
Click on the thumbnails to enlarge the images:

Big Spring 1
Area of houses behind the pumphouse is now part of Talleyrand Park

Big Spring 6

Big Spring 2B
looking west

Looking east toward the Academy on the hill

Big Spring 7

Big Spring 13

Big Spring 17

Big Spring 3B

Big Spring 4
~1910

Big Spring 4B

Big Spring 8
looking west toward the Match Factory

Big Spring 10

Big Spring 14
Match Factory to the west

Big Spring 18

Big Spring 19
looking southwest

Big Spring 101

Big Spring 21

Big Spring 22
Match Factory to the west

Big Spring 23

Big Spring 96
A more modern view but before the cover was installed (see next photo)

Big Spring, 2006, with a synthetic cover and a restored pumphouse

Big Spring 99

Big Spring 102

Falls 1 on Spring Creek
Match Factory in the distance

Falls 2
Match Factory in the distance

Falls 3

Falls 4
looking south along S. Water St.

Falls 5

Falls 6
the houses and gas station were cleared for Talleyrand Park

1936 Flood
The same falls area flooded; Match Factory in the distance

The McClain Building on Spring Creek was removed and replaced by Talleyrand Park.

Match Factory 1
Looking south. Spring Creek in the foreground

Match Factory 2
Same view, but with more buildings added

Match Factory 3
Same view as other two images

Mill on Willowbank Street near the Big Spring and the MatchFactory
Powered by flow from a dammed-up Logan Branch mill pond

The Willowbank St. mill