In the 1960s, Bellefonte Borough Council developed plans for a park at the site of the deteriorated McClain block. The Talleyrand Park Citizens Committee formed in 1974. Aided by donations and volunteers, non-profit and public agencies, and Bellefonte Borough, the Committee installed the first structure in 1976: a gazebo, which was designed by Rob Fisher, the late Bellefonte sculptor. The Talleyrand Park Committee, which since 1976 has operated under the BHCA umbrella, continues to maintain and improve the Park together with the Borough of Bellefonte and the Bellefonte Garden Club. Click here to view the Borough's webpage on the Park.
The Talleyrand Park Committee has produced a Brochure that outlines community involvement in establishing and maintaining the Park. Click here to view the Brochure.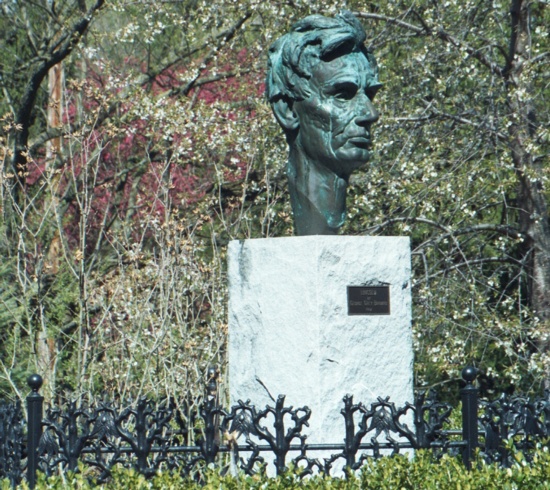 For use of the gazebo and lawn areas for weddings or other occasions, contact the Borough of Bellefonte.
The George Grey Barnard Sculpture Garden in the park was formerly a gas station. The site was donated by Gulf Oil Corporation in 1978. In 1983, the Committee installed the bust of Lincoln, cast from the original plaster head sculpted in 1917 by the famous sculptor George Grey Barnard (1863-1938). Barnard was born in Bellefonte in a house on East Linn Street. Among his works were the Barnard groups of statuary flanking the main entrance of the State Capitol Building in Harrisburg. The complete 1917 statue of Lincoln is now in Manchester, England, with a replica in Cincinnati.
In Europe Barnard purchased medieval sculpture and architectural elements primarily from French farmers as well as local magistrates who had incorporated into their properties works of art abandoned in the aftermath of the French Revolution. That art was exhibited in his museum in Manhattan called The Cloisters. Subsequently John D Rockefeller Jr. financed the building of a new Cloisters Museum that opened to the public in 1938 in Fort Tryon Park on the northern tip of Manhattan. It is the branch of the Metropolitan Museum of Art devoted to the art and architecture of medieval Europe. The Barnard collection formed the nucleus of The Cloisters Collection.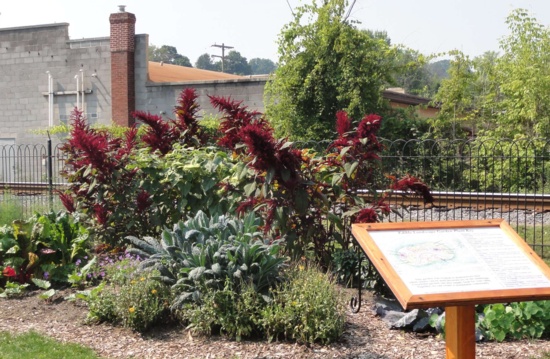 An Edible Landscape Garden was created in the new section of Talleyrand Park, adjacent to the Match Factory, in 2011, by members of the Talleyrand Park Committee. They wanted to expand the concept of public and home landscaping. The goal was to create an example of an edible garden that requires little care to encourage home food production, diversify and improve our diets, and move our community closer to sustainability. The Borough of Bellefonte aided by providing top soil and mulch as well as tilling. Click here to view a .pdf on the Edible Landscape Garden from the Borough's website.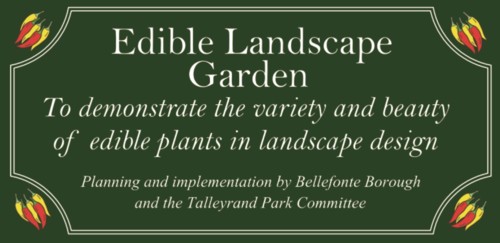 The Talleyrand Park Committee has launched an opportunity to purchase brick pavers to support the Park. These will be installed in the area behind the Gazebo. They will be engraved as you choose. Click here to view a webpage about purchasing a paver.
VIEW A TRIBUTE TO TRUE FISHER AND PHOTOS OF PROMINENT PARK FEATURES AND MILESTONES
VIEW A WINTER GALLERY OF TALLEYRAND PARK BY MICHELLE MONTES

VIEW A HISTORICAL GALLERY OF THE AREA THAT WOULD BECOME THE PARK