Virtual Walking Tour of Bellefonte, Pennsylvania
The Talleyrand Park Citizens Committee
Bellefonte Historical and Cultural Association
Stop 3. The Bush House (Penn Belle) Hotel

BHCA Home | Virtual Tour Home | Center Town Map | Next Stop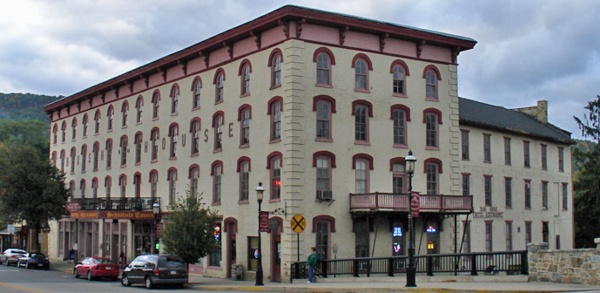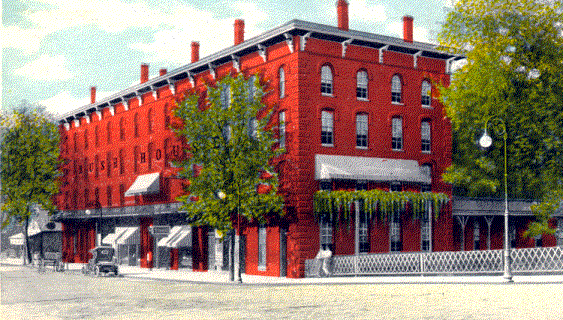 Built in 1868 and 1869 by Daniel G Bush, the Bush House was one of the first hotels in the country to have electric lights. Coming to Bellefonte in 1856 as a map salesman, Mr. Bush decided to stay. Between 1865 and 1873 he constructed nearly twenty-seven (27) buildings, including the Bush House, as part of a post-Civil War boom. Among his other buildings is the nearby Bush Arcade. Mr. Bush lived in a mansion on Spring Street.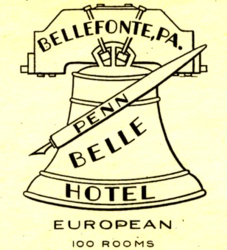 There was a man, a town notable, who was in the employ of the Bush House. He stood at the Bellefonte train station and called out to passengers as they disembarked, "Walk ya' to the Bush House." There was fierce competition in those days between the Bush House, the Brockerhoff House, the Haag House, and other hotels for travelers and patrons. Thomas A. Edison stayed at the Bush House when he came to Bellefonte in connection with electrification of the town. Other notables staying there were Henry Ford and Amelia Earhart.
In 1928 William J Emerich purchased the hotel and named it the Penn Belle (logo to right). BHCA acquired a series of letters and bills written in the early 1930s by a salesman or contractor, J. Wagoner, who evidently stayed at the hotel. One of his letters can be seen by clicking here. The complete series of letters is now in the Pennsylvania Room of the Centre County Historical Library.

William J Emerich died in 1952 and is buried in Union Cemetery. Gino Fornicola, one-time mayor of Bellefonte, started managing the hotel in 1961 and in 1968 became part owner and renamed it the Bush House in the early 1970s. He and his family massively renovated the structure. In more recent years, the building contained several businesses, including Schnitzels Restaurant, featuring outdoor dining along the banks of Spring Creek, and held receptions of various kinds. Unfortunately, the Bush House burned to the ground on February 8, 2006.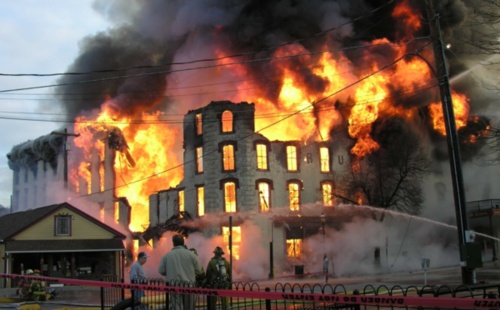 Click here to view a gallery of historical images of The Bush House and West High Street