Virtual Walking Tour of Bellefonte, Pennsylvania
The Talleyrand Park Citizens Committee
Bellefonte Historical and Cultural Association
Stop 10B. Plaza Theater Building

BHCA Home | Virtual Tour Home | Center Town Map | Next Stop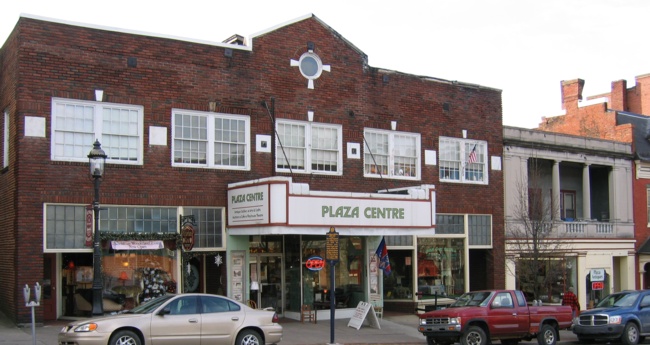 The Plaza Theater Building is located immediately west of the Curtin Residence (Elks Hall, Stop 10A) on West High Street. It was designed by Anna Wagner Keichline (1889-1943). A Bellefonte native, and in 1920 the first woman registered as an architect by the state of Pennsylvania, she had graduated from Cornell. She designed numerous buildings, including the Plaza, the Juniata Colony Country Club in Mt. Union, the Cadillac Building in Bellefonte, and several Bellefonte homes. She was also an inventor, women's suffrage advocate, and Special Agent for Army Intelligence in WWII. Click here for our Local History Series piece on Anna.

The theater featured a 30 ft x 60 ft stage, orchestra pit, and pipe organ. A second, smaller theater showed silent movies, for the few years when both silent movies and talkies were produced. (Although The Jazz Singer, in 1925, is generally credited as the first talkie, the first all-talking film was Lights of New York, released in 1928.) On opening night of the theater -- October 19, 1925 -- 2,500 people attended. Two showings were necessary to accommodate them. The theater also featured the "Cry Room," a glass-enclosed space on the balcony level where parents with young children could see the movies without disturbing other patrons.

Today the Plaza is a cooperative of dealers in antiques and collectibles. A 2002 state historical marker honoring Anna Keichline stands in front of the building.