Sunday Afternoons at the Library Concerts
Bellefonte Historical and Cultural Association
Archives

BHCA Home | Sunday Concerts Home
1981-1982

November 15, 1981 Smith Toulson, clarinet, Steven Glaser, piano, & Christopher Callahan, horn
January 18, 1982 Bellefonte Singers
February 18, 1982 Nittany Knights/Sweet Adelines
March 7, 1982 Nova Consort
April 18, 1982 Nan Gullo Mann, harp
May 31, 1982 Juniata Woodwind Quartet with Nona Uhler, soprano, and Gay Dunne, piano
1982-1983
February 19, 1983 Ronald Hockenberry, piano & Dieuwke Schreuder Davydov, cellist (Dorothy Schad Concert)
1983-1984
October 9, 1983 Penn State Brass Trio
November 13, 1983 Alard String Quartet
February 19, 1984 Madrigal Singers
March 25, 1984 Joanne Zagst, violin & Jill Olson, piano (Piano Restoration Benefit Concert)
April 8, 1984 Image Jazz Quartet
May 13, 1984 Anne Waller and Mark Maxwell, guitars
1984-1985
In the Library
October 14, 1984 Robert Lima, poetry
March 10, 1985 Susan Impress Mianulli, soprano
April 14, 1985 The Pennsylvania Chamber Players (The Alard Quartet, Diane Gold, flute, Sylvia Glickman, piano)
May 19, 1985 Patricia Stenberg, oboe: music for solo oboe, woodwind quartet, and piano sextet
In the Gamble Mill Gallery
November 16 & 17, 1984 "Jazz in the Mill" Arthur Goldstein, piano
March 31, 1985 Penn State Percussion Ensemble
1985-1986
November 3, 1985 Diane Gold, flute, Nan Gullo Mann, harp, & Ray Page, viola
January 26, 1986 The Pennsylvania Chamber Players (Joanne Zagst, Donald Hopkins, Raymond Page, Leonard Feldman, Diane Gold, Sylvia Glickman)
February 9, 1986 Suzanne Roy, soprano & Steven Smith, piano
March 16, 1986 Stephen Smith, piano
April 6, 1986 Barolk Folk (Carrie Crompton, Celia Wyckoff, & Mike Rose)
May 4, 1986 Arthur Goldstein, jazz piano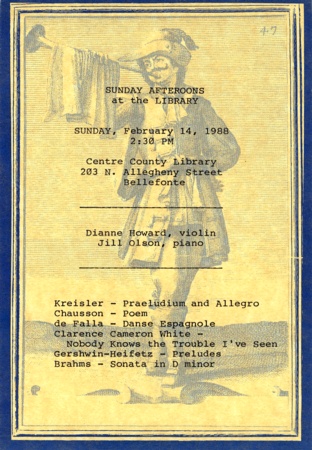 1986-1987
February 8, 1987 Paul Laird, cello, Sharon Plummer, harpsichord, Joy Laird, recorder
February 15, 1987 Barry and Susan Kroeker, obie & flute, & Timothy Shafer, piano
March 5, 1987 Rosetti Kwintet, woodwind quintet from Holland, in the Centre County Courthouse with a champagne gala reception
March 15, 1987 Ray Page, Gay and Jim Dunne: violin, viola, piano, and horn
April 12, 1987 Barolk Folk
May 17, 1987 Theresa Vincent Smith, soprano & Steven Smith, piano
1987-1988
November 8, 1987 The Pennsylvania Woodwind Quintet
January 17, 1988 The Alard Quartet
February 14, 1988 Diane Howard, violin, and Jill Olson, piano
April 17, 1988 Opus 1, madrigal singers
May 8, 1988 The Aloysius Consort (Joy Laird, Paul Laird, Sharon Plummer)
May 15, 1988 Barbara Hess, soprano, and Diane Gold, flute
1988-1989
October 23, 1988 (in the Centre County Courthouse) members of the Alard Quartet and the Pennsylvania Quintet
January 22, 1989 Opus One, madrigal singers
February 19, 1989 Julian Thayer, double bass and Arthur Goldstein, piano
March 12, 1990 Sylvan Trio: Koya Ohmoto, piano, Lois Durran, violin, Claudia Koide, cello
April 16, 1989 Jill Olson, piano
May 7, 1989 Barbara Hess, soprano and Diane Gold, piano: "Coming to America"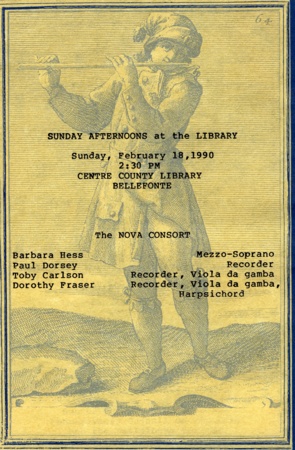 1989-1990
October 1, 1989 Diane Gold, flute and Victoria Fischer, piano
November 19, 1989 Special concert at the Centre County Courthouse: Julian Thayer Jazz Trio from New York with Julian Thayer, double bass, Scott Robinson, horns, and Pheeroan akLaff, percussion: "Kandinsky Sketches"
January 21, 1990 Cecilia Dunoyer, piano
February 18, 1990 Nova Consort: Barbara Hess, mezzo-soprano, Paul Dorsey, recorder, Toby Carlson, recorder & viola da gama, Dorothy Fraser, recorder, viola da gamba, harpsichord
March 18, 1990 Operatic Arias: Sherrie Garoian, soprano and Koya Ohmoto, piano
April 1, 1990 The Pennsylvania Quintet: Eleanor Armstrong, Barry Kroeker, Smith Toulson, Daryl Durran, Lisa Bontrager
May 6, 1990 Sylvan Trio
1990-1991
November 4, 1990 Marianne Behrendt, violin and Marylene Dosse, piano
January 20, 1991 Wind Quintet of the Nittany Valley Symphony
February 17, 1991 Jeni Sclotchiver, piano
April 21, 1991 Victorian Brass: Jeffrey Baker, Charles Langston, James Dunne, Roger Munnell, John Kovalchick
May 5, 1991 Karen Eckenroth, soprano, Diane Gold, flute and piano, Ibrook Tower, clarinet
1991-1992
October 6, 1991 Barbara Hess, soprano and Diane Gold, piano
February 23, 1992 Simple Gifts
May 31, 1992 Victorian Brass
1992-1993
September 13, 1992 Dianne Howard, violin & Teresa Murray, piano
January 31, 1993 Simple Gifts
February 28, 1993 Victorian Brass
April 18, 1993 Bella Chorda String Quartet
May 2, 1993 Karen Eckenroth, soprano, William Tilghman, piano & Diane Gold, flute
1993-1994
February 6, 1994 Lois Burran, violin & Jill Olson, piano
February 28, 1994 Mark Sislo, French horn
April 17, 1994 Victorian Brass
April 29, 1994 Cecilia Dunoyer, pano
May 22, 1994 Bella Chorda String Quarter
1994-1995
October 23, 1994 Barbara Hess, mezzo soprano, Jason Smith, counter-tenor, & Jane Pilch, piano
November 6, 1994 Simple Gifts
February 26, 1995 Easterly Chamber Players
March 26, 1995 Kim Cook, cello & Marylene Dosse, piano
April 30, 1995 Sherri Garoian, soprano & Koya Ohmoto, piano
1995-1996
October 1, 1995 Appalachian Spring (Simple Gifts plus Diane Gold Toulson & Smith Toulson)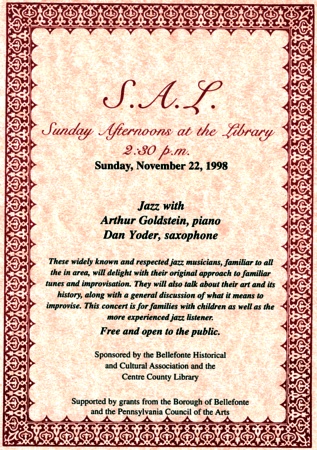 November 12, 1995 Duo Concertante: Diane Gold Toulson, flute & Hanni Schmid Wyss, pianist
February 11, 1996 Barbara Hess, soprano & Shirley Fonda, piano (Children's Program)
April 21, 1996 Victorian Brass
May 5, 1996 Richard Kennedy, tenor & Anthony Leach, piano
1996-1997
October 6, 1996 Simple Gifts
November 3, 1996 Easterly Chamber Players
January 26, 1997 Wunderbrass: Kimberly Reese, horn; Timothy McKay, trombone; Jason Byrnes, tuba
March 2, 1997 Sara Hopkins, soprano & Kathy Cinatl, piano
April 29, 1997 Daughter Moon: Sharon Faison, Chloe Faison, Bruce Young
1997-1998
September 28, 1997 Diane Gold, Klement Hambourg, and Nevelyn Kneisely
November 16, 1997 Dan and Galla
March 1, 1998 Matthew Shaw, baritone & Stephen Grazzini, piano
April 26, 1998 Carujian Quartet: James Lyon, Ruth Monson, Ann Bellino, Carol Lycon
1998-1999
October 25, 1998 The Easterly Chamber Players
November 22, 1998 Jazz with Dan Yoder and Arthur Goldstein
February 21, 1999 Walter Wells, baritone & Howard Palmer, piano
March 7, 1999 Victorian Brass: Young Person's Concert, including Peter & the Wolf
April 11, 1999 State College Choral Society Madrigal Singers
1999-2000
September 26, 1999 Eastern Chamber Players, Richard Strasser & Brent Register
November 21, 1999 The Mick and Terri Dennis Duo
February 20, 2000 Simple Gifts
March 5, 2000 Marylene Dosse, piano & Marianne Behrendt, violin
April 16, 2000 Barbara Hess, soprano & Diane Gold Toulson, piano
2000-2001
October 1, 2000 Duo Tango: Richard Strasser, guitar & Diane Gold Toulson, flute
October 29, 2000 Trombone Chowder: Mike Loewen, Mitch Price, Mike Bruster, Jeannie Nadenicek
February 4, 2001 Andrew Smith, pianist, in concert
March 25, 2001 Christopher Chaffee and Friends
April 22, 2001 Ceiltach Clasaiceach (Gaelic Classic)
2001-2002
September 16, 2001 Heritage Brass Quintet
November 4, 2001 Richard Wylie, guitar
February 17, 2002 Mike Evock, piano & Dave Grebos, drums
April 14, 2002 Easterly Chamber Players
May 12, 2002 Jessie Barth, vocalist & Diane Gold Toulson, piano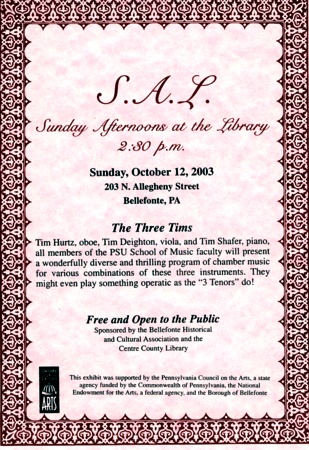 2002-2003
November 3, 2002 Lyon Family Chamber Ensemble
November 24, 2002 Penn State Mallet Ensemble
February 16, 2003 Simple Gifts
March 23, 2003 Easterly Chamber Ensemble
April 27, 2003 Victorian Brass
May 11, 2003 Susan Boardman, Lyric Soprano and Elena Pancenko, piano
2003-2004
October 11, 2003 The Three Tims: Tim Hurtz, obie, Tim Deighton, viola & Tim Shafer, piano
October 26, 2003 Randy Ayers, guitar & Diane Gold Toulson, flute
November 23, 2003 The Heritage Brass Quintet
February 29, 2004 Arthur Goldstein and Friends (Steven Bowman, sax & Robert Nairn, bass)
March 28, 2004 Dan and Galla
April 25, 2004 The Penn State Opera Theatre
2004-2005
October 24, 2004 Randall Rivers, guitar & Diane Gold Toulson, flute
November 14, 2004 Callanish
February 13, 2005 The Dan Yoder Quartet
April 3, 2005 The Pennsylvania Quintet (Eleanor Armstrong, Tim Hurtz, Smith Toulson, Daryl Durran, Lisa Bontrager)
May 1, 2005 Jessie Barth and Friends
2005-2006
October 16, 2005 BROADWAY CABARET. Theatre professionals Heidi and Richard Biever from Singing on Stage studio along with pianist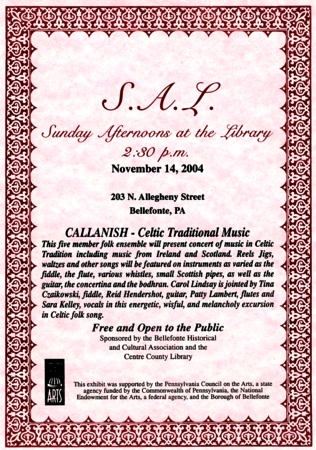 Anthony DeAngelis will present a concert of Musical Theatre favorites. You will hear songs from Rogers and Hammerstein to Steven Sondheim. Come and enjoy this entertaining afternoon!
November 20, 2005 HERITAGE BRASS QUINTET and vocalist Cathy Stout will present a variety of serious and fun tunes to delight all ages. Jim Ressler, trumpet, David Switzer, trumpet, Chris Naugle, french horn, Jerry Stone, trombone and Scott Williams, tuba will gather to perform oldies and goodies from yesteryear.
February 26, 2006 JULIET WHITE-SMITH AND FRIENDS, guest violist from Northern Colorado University will be joined by Ann Deighton, pianist and Diane Gold Toulson, flutist to share chamber music by Brahms, Rochberg, Kraus and others. This fabulous performer will enchant everyone with her sublime musicianship!
March 26, 2006 EASTERLY CHAMBER PLAYERS. These four musicians will offer an "Hommage to Poulenc" by performing solo sonatas for flute, oboe and clarinet culminating with Trygve Madesens "Hommage" combining elements of this famous French composer. Diane Gold Toulson, flute, Smith Toulson, clarinet, Brent Register, oboe and Paula Amrod, piano are well known to this audience.
April 30, 2006 THE RICK HIRSCH JAZZ TRIO. The members of the Rick Hirsch Trio play jazz guitar, double bass, and saxophone. Their performance will feature classic jazz works as well as original compositions by Hirsch, including themes from his big band suite "Village Green, in Blue: a musical portrait of Talleyrand Park."
2006-2007
October 22, 2006 TROMBONE CHOWDER. This is not a recipe for an exotic food dish. Rather, it is a trombone quartet from the central Pennsylvania area whose repertoire spans a wide variety of styles and genre, including chamber music, marches, vocal transcriptions, and jazz arrangements. Members of the group are Mike Loewen, Jay Vonada, Mike Bruster, and David Priester.
November 19, 2006 DAN AND GALLA. Returning to our series is this husband and wife team, who bring a special blend of music, talent, and effervescence to the spirited Russian folk music that they perform: Galla who plays the Balalaika, guitar, and flute; and Dan, who is an accomplished pianist and accordioinist. They also play music from other traditions, and there will be an opportunity for the audience to participate with them. Bring the whole family!
February 4, 2007 PAUL ZIEGLER AND FRIENDS. A resident of New Jersey, Peabody-trained pianist/ composer Paul Ziegler brings his considerable talents to our series for the first time. His extremely appealing, lushly romantic, and lyrical style has won him accolades as both an outstanding pianist and composer. He will be joined by soprano Patricia Ruggles, flutist Diane Gold Toulson, and clarinetist Smith Toulson, presenting a wide range of his own works.
March 4, 2007 BANJOVIAL. Bellefonte's own Roger Munnell leads his delightful quartet of 2 banjos, trombone and tuba. Roger will introduce this instrument from the past, which is associated with all kinds of energetic toe-tapping music, including bluegrass, jazz, and the "minstrel era." Part of their presentation will involve an introduction to the banjo and its storied history. Members of Bonjovial are Jim Kerhin and Mike Evock, banjo, Mike Loewen, tuba, and Roger Munnell, trombone.
April 15, 2007 RED RIVER QUILT. A production of Richard Biever's group, "On Stage Singing," this touching, emotional musical play is the story of a young girl who has to deal with the death of her grandfather. Through the discovery of a family quilt, she begins to understand the importance of family and the continuity of life. This presentation is especially for the entire family.
2007-2008
October 28, 2007 CAMERATA AMISTAD. This musical trio -- Cathy Collinege Herrera and Diane Gold Toulson, flutes, and Trina Gallup, bassoon -- performs regularly in various orchestras. They came together out of their mutual love of Latin music and recently performed at the Mayan Rivera in Cancun, Mexico for a Congresso presenting music of the Americas.
November 18, 2007 JAZZ WITH CATHERINE DUPUIS AND RUSS KASSOFF. Having performed twice at the State College Downtown jazz fest, they are back by great demand to present delicious harmonies of pianist Russ Kassoff and well-crafted vocal lines of Catherine Dupuis. Dupuis comes to her craft with the soul of a great actress and facility of a highly skilled jazz instrumentalist. This duo dazzles with a fresh look at the Great American Songbook. Pianist Kassoff has precision and enthusiasm that is riveting.
February 3, 2008 EASTERLY CHAMBER PLAYERS. Diane and Smith Toulson, flute and clarinet, respectively, will be joined by stunning harpist Anne Sullivan for a program from the heavens. Their inaugural concert at the Downtown Music Fest was popular and exciting. Anne has a dual life in Philadelphia and Coburn and performs all over the east coast. She makes the harp seem very easy indeed!
March 30, 2008 CALLANISH. The five members of Callanish, a Traditional Celtic band, share the music of their heritage and pass the tradition along with energetic Irish reels, jigs, polkas, hornpipes and songs. Patty Lambert (wooden flute, concertina), Gretchen Seaver (fiddle), Sara Kelley (vocals), Carol Lindsay (bodhran and bones), and Joe DeLuca (guitar, bouzorki) will enchant us.
May 11, 2008 HEIDI BIEVER SINGS ON MOTHERS DAY. Vocalist Heidi Biever, joined by Annie Holmes (Dreamgirls) and Richard Biever, pianist, in a medley of singing and acting, depict motherhood in all its realms. These three parents are musical theatre professionals who will embrace motherhood in a touching and humorous fashion.
2008-2009 A SEASON OF FIRST APPEARANCES
October 5, 2008 ARTHUR GOLDSTEIN, JAZZ PIANIST, AND RICK HIRSCH, SAXOPHONIST. Both musicians have performed widely in Pennsylvania and nationally. They have formed a new group called The Folkjazz Project, which "blends improvised jazz strongly rooted in the folk-blues tradition with classical music's elegance of structure." One observer noted that "these two seasoned jazz musicians read and respond to each other with sensitivity, expressiveness, grace, and daring."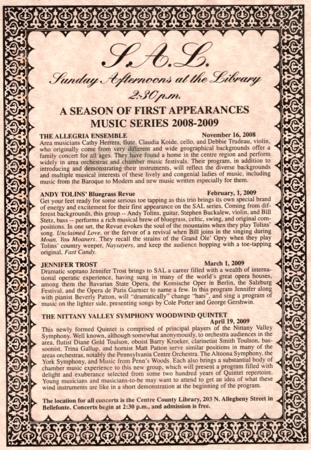 November 15, 2008 The Allegria Ensemble. Area musicians Claudia Koide, cello, and Debbie Trudeau, violin, who come from very different geographical backgrounds, offer a family concert for all ages. They have found a home in the Centre region and perform widely in area orchestras and chamber music festivals. Their program, in addition to introducing and demonstrating their instruments, will reflect the diverse backgrounds and multiple musical interests of these lively and congenial ladies of music, including music from the Baroque to Modern and new music written especially for them.
February 1, 2009 Andy Tolins bluegrass revue. Get your feet ready for some serious toe tapping as this trio brings its own special brand of energy and excitement for their first appearance on the SAL series. Coming from different backgrounds, this group -- Andy Tolins, guitar, Stephen Buckalew, violin, and Bill Stetz, bass -- performs a rich musical brew of bluegrass, Celtic, swing, and original compositions. In one set, the Revue evokes the soul of the mountains when they play Tolins' song, Unclaimed Love, or the fervor of a revival when Bill joins in the singing during Moan, you Moaners. They recall the strains of the Grand Ole Opry when they play Tolins' original weeper, Naysayers, and keep the audience hopping with a toe-tapping original, Fast Candy.
March 1, 2009 Jennifer Trost. Dramatic soprano Jennifer Trost brings to SAL a career filled with a wealth of international operatic experience, having sung in many of the world's great opera houses, among them the Bavarian State Opera, the Komische Opera in Berlin, the Salzburg Festival, and the Opera de Paris Garnier to name a few. In this program Jennifer, along with pianist Beverly Patton, will dramatically change hats and sing a program of music on the lighter side, presenting songs by Cole Porter and George Gershwin.
April 19, 2009 NITTANY VALLEY SYMPHONY WIND QUINTET. This newly-formed quintet is comprised of principal players of the Nittany Valley Symphony. Well known, although somewhat anonymously, to orchestra audiences in the area, flutist Diane Gold Toulson, oboist Barry Kroeker, clarinetist Smith Toulson, bassoonist Trina Gallup, and hornist Matt Patton serve similar positions in many of the area orchestras, notably the Pennsylvania Centre Orchestra, the Altoona Symphony, the York Symphony, and Music from Penn's Woods. Each also brings a substantial body of chamber music experience to this new group, which will present a program filled with delight and exuberance selected from some two hundred years of Quintet repertoire. Young musicians and musicians-to-be may want to attend to get an idea of what these wind instruments are like in a short demonstration at the beginning of the program.



2009-2010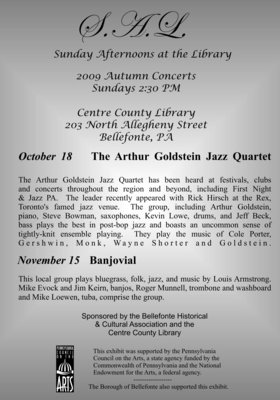 October 18, 2009 THE ARTHUR GOLDSTEIN JAZZ QUARTET The Arthur Goldstein Jazz Quartet has been heard at festivals, clubs, and concerts throughout the region and beyond, including First Night & Jazz PA. The leader recently appeared with Rick Hirsch at the Rex, Toronto's famed jazz venue. The group, including Arthur Goldstein, piano, Steve Bowman, saxophones, Kevin Lowe, drums, and Jeff Beck, bass, plays the best in post-bop jazz and boasts an uncommon sense of tightly-knit ensemble playing. They play the music of Cole Porter, Gershwin, Monk, Wayne Shorter, and Goldstein.
November 17, 2009 BANJOVIAL This local group plays bluegrass, folk, jazz, and music by Louis Armstrong. Mike Evock and Jim Keirn, banjos, Roger Munnell, trombone and washboard, and Mike Loewen, tuba, comprise the group.
March 21, 2010 The Easterly Chamber Trio with Anne Sullivan A recital of French music with Smith Toulson, clarinet, Diane Gold Toulson, flute, & Anne Sullivan, harp
April 25, 2010 Centre Heritage Singers Miriam Locklin leads a group of 20 singers in classical, folk, and pop choral music
2010-2011
NITTANY WIND QUINTET - November 7, 2010 Judy Moore, flute; Barry Kroeker, oboe; Mark Weaver, clarinet; James Dunne, horn; Katie O'Brien, bassoon: 19th & 20th century wind quintet music
EASTERLY CHAMBER PLAYERS - February 27, 2011 Diane Toulson, flute; Smith Toulson, clarinet; Trina Gallup, bassoon; Ann Sullivan, harp
RICK HIRSCH JAZZ QUARTET - April 3, 2011 Rick Hirsch, saxophone; Mac Himes, guitar; Jeff Beck, bass; Kevin Lowe, drums. The Hirsch Jazz Quartet is a leading force on Pennsylvania's instrumental music scene. They interpret Nirvana, the Beatles, Radiohead, Billy Joel, and the Doors. They also interpret original, evocatives themes composed by the members of the band.
FROM THE HEART - May 15, 2011 Cathy Herrera and Carol Lindsay. Spontaneously improvised music on world flutes and percussion
NITTANY WIND QUINTET - June 12, 2011 Judy Moore, flute; Barry Kroeker, oboe; Mark Weaver, clarinet; James Dunne, horn; Trina Gallup, bassoon. Wind Quintet Music: Movie, Classical, Dance, Romantic.
2011-2012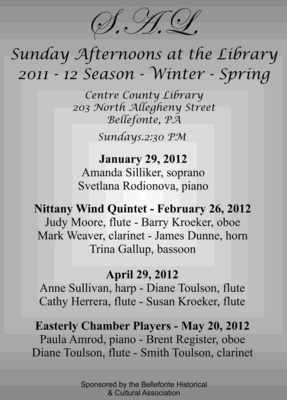 November 20, 2011 - Jay Vonada Trio (Jazz): Jay Vonada, trombone, Alex Sell - organ, Kevin Lowe, drums
January 29, 2012 : Amanda Silliker, soprano & Svetlana Rodionova, piano
February 26, 2012 - Nittany Wind Quintet: Judy Moore, flute, Barry Kroeker, oboe, Mark Weaver, clarinet, James Dunne, horn, Trina Gallup, bassoon
April 29, 2012: FLUTE FEST: Anne Sullivan, harp, Diane Toulson, flute, Cathy Herrera, flute, Susan Kroeker, flute. Three of the region's finest flutists (Cathy Herrera, Susan Kroeker, and Diane Gold Toulson) along with harpist Anne Sullivan will present a lively and vibrant program of music for multiple flutes by the 19th Century Hungarian Flutist/Composers Franz and Karl Doppler. Tunes from the opera Rigoletto as well as Hungarian and Czech folk melodies promise a concert of delightful virtuosity and exciting rhythmic energy side by side with moments of soulful melancholy. Come and hear a veritable "flute fest."
May 20, 2012 - Easterly Chamber Players: Paula Amrod, piano, Brent Register, oboe/English Horn, Diane Toulson, flute, Smith Toulson, clarinet. Music by Alec Templeton, Poulenc, Tryvge Madsen, etc.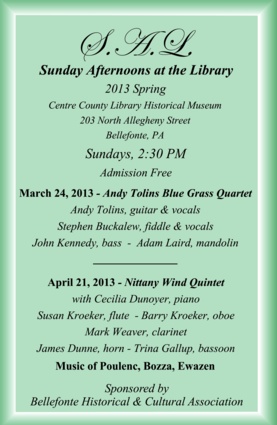 2012-2013
October 21, 2012 - Jay Vonada quartet
jazz standards and original compositions
Jay Vonada, trombone
Alex Sell - keyboards
Jeff Beck - bass
Kevin Lowe - drums
January 27, 2013 - Carolyn Gardner, flute
with Ann Deighton, piano; Kim Cook, cello; Kristen Paschen, soprano; and Robert Gardner, digital delay
February 24, 2013 - ALLEGRIA ENSEMBLE
Cathy Herrera, flute; Debbie Trudeau, violin; Jonathan Dexter, cello; Diane Toulson, piano and flute
March 24, 2013 - ANDY TOLINS BLUEGRASS QUARTET
Andy Tolins, guitar and vocals; Stephen Buckalew, fiddle and vocals
John Kennedy, bass; Adam Laird, mandolin
April 21, 2013 - NITTANY WIND QUARTET
Susan Kroeker, flute; Barry Kroeker, oboe; Mark Weaver, clarinet
James Dunne, horn; Trina Gallup, bassoon
Music of Poulenc, Bazza, Ewazen
2013-2014
Click here to view the 2013-2014 artists
2014-2015
Click here to view the 2014-2015 artists
2015-2016
Click here to view the 2015-2016 artists
2016-2017
Click here to view the 2016-2017 artists
2017-2018
Click here to view the 2017-2018 artists
2018-2019
Click here to view the 2018-2019 artists
2019-2020
Click here to view the COVID-shortened 2019-2020 artists