Virtual Walking Tour of Bellefonte, Pennsylvania
The Talleyrand Park Citizens Committee
Bellefonte Historical and Cultural Association
Stop 8. The First Courthouse, also called Dunlop House, and Diven House

BHCA Home | Virtual Tour Home | Center Town Map | Next Stop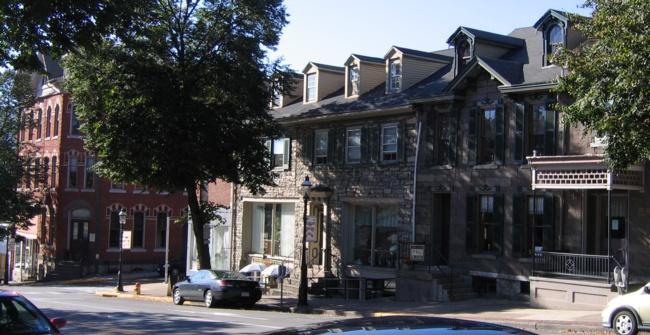 The building behind the lamppost is The First Courthouse. The lamppost is on line with the division between the two sections. The Manse (Stop 6) is at left, across the street. To the right of the First Courthouse is Diven House (to the right of the white downspout).
Dunlop House was built in 1795 by Lt. Col. James Dunlop, who with his son-in-law, James Harris, founded the town. The parlor of this stone structure at 143 West High Street housed the first courthouse from 1800 to 1806. The western (left-hand) half of the house was built considerably later, in 1848, by the Valentine ironmasters. Altogether, the house had twenty (20) rooms. Today the house contains offices and, on the ground floor, a coffee house.
Immediately east (to the right) of the house is Diven House. In 1797 James Dunlop had it built for Alexander Diven, side-by-side with the first courthouse. The architect for these houses, as well as many others built in that era, was John Lowery, who managed the Bell Font Forge for his cousin, John Dunlop, and who later managed the Bellefonte Academy after the death of John Dunlop. Diven House is a fine example of the Georgian style, favored by the early settlers. Four original fireplaces remain in the building. One of the fireplace surrounds still retains the original decorative style. The house today is a realty office.
Click here to view a historical gallery of images of West High Street, including the First Courthouse and Diven House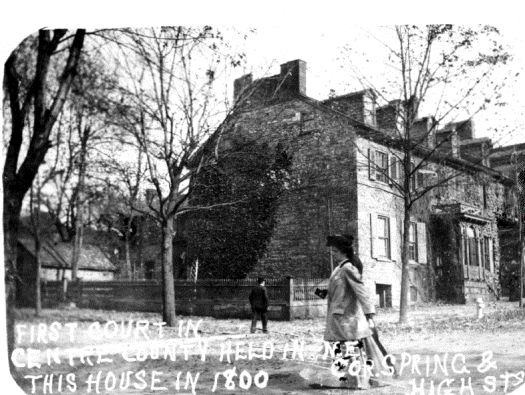 Fred D Smith Collection