Virtual Walking Tour of Bellefonte, Pennsylvania
The Talleyrand Park Citizens Committee
Bellefonte Historical and Cultural Association
Stop 40B. Forge House

BHCA Home | Virtual Tour Home | Walking Tour Map | Next Stop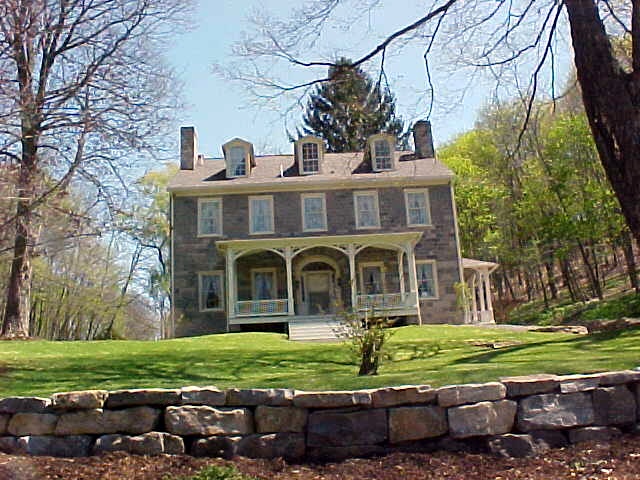 John Dunlop was an Ironmaster. In the late 1700s, he had all the resources to make the finest iron in the world, at a time when iron-making made people kings, with one exception. He lacked a labor force. By 1794 there were many freed black people looking for work in Franklin County, Pennsylvania. John Dunlop operated a profitable iron furnace in Franklin County until 1795. In the area now called Centre County, John Dunlop had three uncles, Miles, Patton and Boggs, who knew the value of the iron ore the valleys possessed. Shortly after John Dunlop arrived here with his labor force, including the African-American population that was noteworthy in early Bellefonte, he built Harmony Forge in conjunction with his uncles. He called the forge Harmony because of the harmony between him and his uncles. In addition to Harmony Forge, John Dunlop built Logan Forge in 1797 in the town of Logan, about a mile east of Axeman, Washington Forge, and finally Bell Font Forge, on the banks of Logan Run just south of Bellefonte. He was killed in a mining accident in 1814.
In 1803 John Dunlop built the Forge House just across the road from his Bell Font Forge. Today the Forge House, at the corner of Route 144 and Forge Road, just south of Stop 40 on the Walking Tour Map, is on the National Registry of Historical Places.
Thanks to Dick Knupp, Sr. for the picture and narrative. Dick Knupp has an explanation for the name of Bellefonte that is connected to this house. It is an alternative to the popular story involving Talleyrand. "John Dunlop called his forge Bell Font Forge because the French word font has nothing to do with water, as believed locally, but does mean casting. The only time water is involved with a font is when water is placed in the casting used in religious ceremonies. In the eighteenth century the finest iron went into the casting of bells. The words Bell Font have a symbolic meaning, that the finest iron is made here. Over the next fifty some years the Bell Font forge, later called the Valentine Forge and eventually Cerro Copper and Brass, lived up to its name. In 1797 John Dunlop purchased a parcel of land called Innocence from William Lamb. He then gave the piece of land to his father James Dunlop and brother in-law James Harris to build a town. That town was named after the Belle Font Forge."