Virtual Walking Tour of Bellefonte, Pennsylvania
The Talleyrand Park Citizens Committee
Bellefonte Historical and Cultural Association
Stop 27B. Charles McCafferty House

BHCA Home | Virtual Tour Home | Center Town Map | Entire Map | Next Stop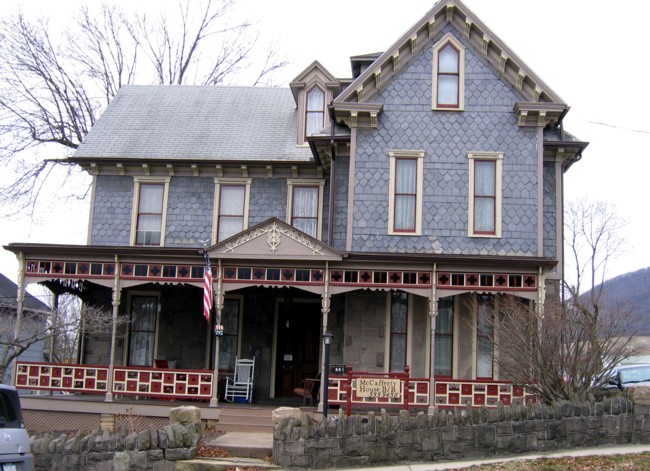 Charles McCafferty built this redstone home at 441 North Spring Street, on the corner with West Curtin Street, in 1883 for his personal use and lived here until 1887. Mr. McCafferty was Bellefonte's premier builder during the last half of the nineteenth century and built many of the homes on Linn and Curtin streets which are part of Historic Bellefonte. Like many of those houses, McCafferty House is built in Folk Victorian style.
Other buildings he erected in Bellefonte during this period were the Brockerhoff Hotel on the diamond in downtown Bellefonte, Governor Curtin's home on High Street, and, in 1867, the grand stone jail behind the courthouse that served the county until it was destroyed by fire in 1959.
Mr. McCafferty's first wife was the daughter of James Williams and was a descendant of James Harris and Ann Dunlop. In the late 1800s the Harris family still owned the undeveloped Curtin and Linn portion of Bellefonte, and Mr. McCafferty was charged with its development (note all the land labeled "McCafferty" on the 1874 Bellefonte map).
The house was used as an office building for about thirty years but has now been restored as a bed and breakfast.
Click here to view historic images along North Spring Street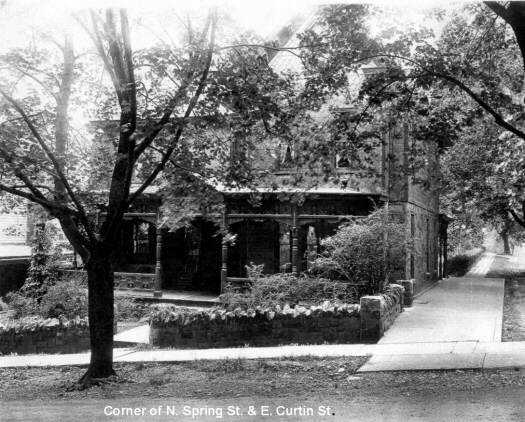 Fred D Smith Collection