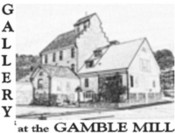 Bellefonte Historical and Cultural Association
Bellefonte, Pennsylvania
Archives of Shows 1984-1999
Gallery at The Gamble Mill

BHCA Home | Gallery Home | Current Shows | Archived Shows | How to Submit

Late in 1974 the Gamble Mill, which occupied the site of the earliest industrial activity within the borough (a 1786 gristmill), was given a deadline for either major renovation or demolition. Through the foresight and dedication of a local resident, Ted Conklin, the mill was saved and within the year was listed in the National Register of Historic Places. The Gallery began in 1984. In the Mill, spaces were being renovated on the second floor for two businesses, an apartment, and the experimental gallery. The first event opened on June 10 and was a "Synergy" between a sculpture by Rob Fisher and a dancer and was created by Rob in collaboration with Ray Masters. Subsequent shows that year are listed below. This Introduction and this Memorandum were written in July 1984 by Corene Johnson, then the Arts Coordinator, and show the experimental directions in which the Gallery might have gone. The Gallery as we know it began in August 1986. Details were hammered out in March 1986 in this BHCA meeting.
1984
September 21-29: I DON'T KNOW A THING ABOUT ART, BUT I LOVE TO WEAR IT! Assembled by Harriet Rosenberg, a combination of art, fashion, and theatre.
September 26, THE ART OF DRESSING. A lecture and demonstration by Harriet Rosenberg
October 9, DESIGNING NEEDLEWORK PATTERNS. Workshop leader Lisa Peters
October 19 and 26, SYNERGY. Music of Bill Holl, poetry of Jo C. Searles, dance by The Extemporary Dance Theatre, and visual arts by Harriet Rosenberg
November 16-17, JAZZ AT THE MILL, composer and pianist Arthur Goldstein
November 18, JAZZ FILMS AND JAM SESSION, films of performances and a jam
December 14-15, BIRTH AND REBIRTH, music of the Middle Ages on traditional and modern instruments, by David Paden and others, alternating with readings by Helen Bechdel and Peter Schneeman
1986
Central Pa Village Crafts (Bellefonte) traditional quilts
Diane Maurer (Centre Hall) marbled paintings
Vincent Carducci (State College) oil paintings
Mary Todenhoft oil paintings
Harriet Rosenberg (Boalsburg) photographs & papercuttings
1987
Joan Blasko (Centre Hall) prints & acrylic paintings
Diane Pepe (State College) colored pencil, collage
Susan Gephart (Bellefonte) pastel
Alyce Ritti (Port Matilda) watercolors
Joyce Hagen (Bellefonte) quilted collage
Mary Towner embroidery
Becky Mast (State College) pen&ink drawings
COLOR HARMONIES
Janet Lindsay (State College) batik, banners, & wall hangings
Dorothy Grebos (State College) watercolors
1988
Jean Giddings (Coburn) floor & wall rugs
Marlee Erwin (State College) watercolors
Ginny Baggett (Clearfield) silkscreen prints
Keith Nelson (State College) photos & oil paintings
Connie Tinkelman (Bellefonte) functional ceramics
Sandi Garris Fagerty (Centre Hall) quilted wall hangings
THE OLDE GROUND
Deirdre McCullough Grunwald (Maynard MA) pen & ink drawings
Robert Lima (State College) poems & poetry book The Olde Ground
Anne Vandervelde (State College) paintings & prints
Ruth Kempner (Clearfield) drawings & paintings
1989
PAPER ONLY
Shirley Siegenthaler (State College) handmade paper
Helen Neuhard (State College) handmade paper
TOWN & COUNTRY
Betty Ayers Melville (State College) watercolors
Philip Sauerlender (State College) screen prints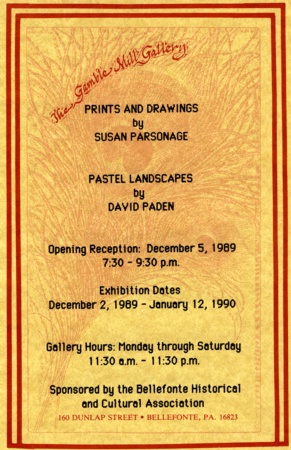 Kathleen Fox Ragusea (Port Matilda) collages constructed from hand-painted paper
Leveta Piemme (State College) porcelain pieces, including platters
June 24 - August 4, 1989
Jean Kizina (Philipsburg) acrylic paintings
Soon Hahn (State College) ceramic wall hangings
A FATHER AND DAUGHTER EXHIBIT OF PASTELS
Susan Nicholas Gephart (Bellefonte) pastel paintings
Thomas Nicholas (Bellefonte) pastel paintings
QUILTS
Central PA Village Crafts (Bellefonte) quilts
Diane Maurer (Springs Mills) marbled paintings
Ken Hull drawings
Dave Paden (Bellefonte) pastel landscapes
Susan Parsonage (State College) prints & drawings


1990
January 13 - March 16, 1990
Jean Thomas Forsberg (Julian) oil paintings
Daniel Mayers (State College) landscape photographs
CELESTIAL CELEBRATIONS
Janet Lindsey (State College) batik
Dorothy Grebos (State College) watercolors
NEEDLE AND SHUTTLE
Fran McEachren (State College) quilted wall hangings
Ann White (Boalsburg) weavings
Marlee Erwin (State College) watercolors
Monika Modest (Boalsburg) ceramic reliefs
Robert Benson, watercolors of Central PA Landscapes
Michael Solan (Port Matilda) Portraits, Family and Friends
MIRRORS AND MIRAGES: TIME AND PLACE
Ed Leos (Lemont) photographs
C. Louise Fox (State College) quilts
Bruce Siegenthaler (State College) mirrors, wood
Terry Johnson (Lemont) terra cotta tiles
Joy Rodgers-Mernin (State College) calligraphy
1991
THE MANY FACES OF URUMQUI
Margaret B. Duda (State College) photography
Maryann Curione (State College) photo documents
David Hopkins (Muncy)oil paintings
Sandy Fagerty (Centre Hall)quilts
Norma Harden Gianopoulas (Philipsburg) oil paintings
Paul Duda (State College) color photography
Nancy Brassington (Bellefonte) oil paintings & watercolors
Jacki Corey photography
Wendy Snetsinger (State College) drawings
Rina Banerjee paintings
Mary McGuire (State College) watercolors
Nancy Strother (Aaronsburg) oil paintings
Ginny Bagget (Clearfield) silkscreen prints
Paul Ruby (Bellefonte) photography
1992
Cindy Russell Frost, painting
Mike Miller, watercolors
Tom Foral, oil paintings
Jerry Maddox, drawings
Janet Lindsey, batik
Dorothy Grebos, watercolors
Shirley Greenlaw, jewelry
Edna Raphael (State College) watercolor paintings
Megan Schlow (State College) photographs
Bruce Shobaken, paintings
George Zoretich, paintings
Paul Kocela, paintings
Harriet Rosenberg (Boalsburg)
Susan Nicholas Gephart (Bellefonte) pastels
Thomas C. Nicholas (Bellefonte) pastels
Peter F. Pepe (Boalsburg) watercolor paintings
Sylvia Baron (State College) computer art
Brad Shoemaker (Lewisburg) watercolors
1993
1st annual Bellefonte area artists group show
Jeanne Cheanult Porter (State College) watercolors & pastels
C. Rae Bradley, etchings & drawings
Ruth Kempner (Clearfield) watercolors, caseins
Ann Vandervelde (State College) mixed media paintings
David Paden (Bellefonte) pastel dreamscapes
Paul Ruby (Bellefonte) photography
Skip Gleichman, photography
Susan Parsonage (State College) prints
Teri Schau (Millheim) photography
Lisa Peters (Bellefonte) embellished stitchery
Dorothy Masom, encaustics
Susan Walters, oils & acrylics
Jeffrey Martin, oils & pastels
Patricia Brandt Hyde, watercolors
Fredric L. Weber (State College) photographs
C. Louise Fox (State College) quilts
1994
January 29 - March 11, 1994. Second annual Bellefonte area artists group show
Joanne Landis, oil paintings
Barbara Smith (State College) photographs
Pamela Shawley Fischer (Bellefonte) wildlife pastels
Harriet M. Rosenberg (Boalsburg) papercuts & photos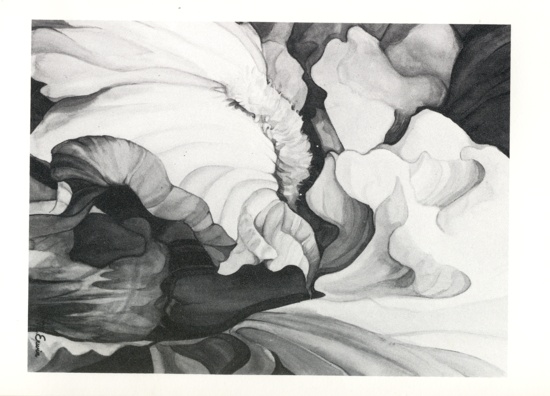 June 7 - July 16, 1994. A LOVE OF NATURE

Marlee Erwin, watercolors
Mary Sue Ford, photographics
watercolor painting by Marlee Erwin
Robert B. Nellis (Bellefonte) stained glass
Randy Hullihen (State College) oil paintings
Helen B. Beck (Ellicottville) paintings & etchings
Jean Thomas Forsberg (Julian) oil paintings
SOUTH BY SOUTHWEST
Dorothy Grebos (State College) watercolors/collages
Janet Lindsay (State College) batiks
Jeffery Mathison (Spring Mills) paintings & drawings
Diane Maurer-Mathison (Spring Mills) marbled prints & collage
1995
State College Photo Club color photos
TWO MARYS: TELLING STORIES
Mary Vollero (Bellefonte) prints & mixed media
Mary McGuire (State College) watercolors/mixed media
April 1 - May 13, 1995. BELLEFONTE SCHOOL TEACHERS & STUDENTS
Karen Baker (Bellefonte) mixed media
Lisa Peters (Bellefonte)
John Ziegler
Ann Hagenbruch
May 15 - June 24, 1995. LANDSCAPES & OTHER IMAGES



Paul Ruby (Bellefonte) B&W photography
Steve Williams (State College) B&W photography
Jerry Kempner (Clearfield) B&W photography
SEVEN PRINTMAKERS
Robin L. Gibson (Huntingdon) prints
Jean Sanders (State College) prints
Bruce R. Shobaken (State College) prints
Joan M. Blasko (Lemont) prints
Nancy Brassington (Bellefonte) monoprints
Susan Parsonage (State College) prints
Chuck Cave (State College) prints
August 5 - September 16, 1995. BELLEFONTE THEMES
Michael Theuer (Bellefonte) drawing
Ruth Kempner (Clearfield) paintings
Jerry Kempner (Clearfield) photography
Ann F. Dotsey (Clearfield) watercolors
Susan Chandler-Lemmo (Clearfield) watercolors
Susan Nicholas Gephart pastels
Olga F. Hooley (Bellefonte) watercolors
Joy Wall
Thomas Nicholas (Bellefonte)
September 16 - October 28, 1995. ECLECTIC COLLECTIONS
Mary Lou Pepe (Boalsburg) prints & drawings
Kathleen A. Frank painting and printing fiber
Nancy Spear oils, found objects
Carol Goldberg (Boalsburg) paintings & clay sculptures
MASQUE PARADE Click here to view the showlist for Masque Parade
Mary Beth Ruby (Bellefonte) mixed media
Harriet M. Rosenberg (Boalsburg) paper cuttings
Alicia Manzitti (Williamsport) papier-maché masks
Connie Tinkelman (Bellefonte) papier-maché masks
Aaron Rosenberg (Boalsburg) masks
Dave Trost (Bellefonte) clay masks
SMALL WONDERS Click here to view the showlist for Small Wonders
Joyce Hagen (Bellefonte)small quilts
Antoinette Holl (State College) small quilted works
Sylvia K. Apple (Port Matilda) fibre art
1996
IN PENN'S WOODS (Black & white photography of Rothrock State Forest & of Bilger's Rocks)
Kathleen M. Langston (State College) B&W photography
Paul D. Ruby (Bellefonte) B&W photography
Jerry Kempner (Clearfield) B&W photography
Steve Williams (State College) B&W photography
Click here to view the showlist for In Penn's Woods
NATURESCAPES (Landscape paintings large and not-so-large)
Vincent Carducci (Spring Mills) oils,acrylics
David Paden (Bellefonte) pastels
Michael Theuer (Bellefonte) paintings
Click here to view the showlist for Naturescapes
STUDENTS FROM THE BELLEFONTE SCHOOLS
GROUPWORKS (multi-media exhibit of a critique/support group that has met monthly for 5.5 years)
George Zoretich, acrylics,watercolors
F. Brian Galas (State College) wood sculpture
Susan Parsonage, prints
Joan Horrocks, clay
Larry Hammer, metal sculpture
Joyce Hagen (Bellefonte) fiber
Susan Nicholas Gephart (Bellefonte) pastels
MINIATURES: A GROUP EXHIBIT
Jean T. Forsberg (Julian) paintings
John Mangan (Julian) pastel drawings
Lisa Peters (Bellefonte) fiber
SEASONS OF VISION (A multi-media exhibit, with a folk duo at the reception)
Teri Karpowich (State College) photography
Kris Kehr (State College) paintings
Angela Cannon (Bloomsburg) stained glass
CHILDREN'S POEMS & STORIES
Ruth Kempner (Clearfield) painting
Susan Chandler-Lemmo (Clearfield) watercolor
Mary Beth Ruby (Bellefonte) papier-mache
Click here to view the showlist for Children's Poems and Stories
MULTI-CULTURAL PERSPECTIVES
Olga Wildauer (Falls Creek) watercolor,pastels
Kay Picart (State College) fine point sketches, pastels
Click here to view the showlist for Multi-Cultural Perspectives
1997
ONE PIECE APIECE: Thirty-five visual artists are asked to hang only one piece in a celebration of the diversity of art in the greater Bellefonte area
Click here to view the showlist for One Piece Apiece
March 8 - May 3, 1997. I AM WHAT I AM
Benjamin A. Saggese II (Munson) acrylics,prints,pastels
Jean P. Kizina (Philipsburg) acrylics
Click here to view the showlist for I Am What I Am
FRAMES OF REFERENCE
Dy Witt (Bellefonte) tile art
Judy Sharer (Port Matilda) microquilts
Click here to view the showlist for Frames of Reference
PERSPECTIVES OF CENTRAL PENNSYLVANIA
Vanetta J. Irwin (Osceola Mills) pastels
Sally Sample (Mackeyville) watercolors
Laura Maney (Woodward) acrylics,oils
Click here to view the showlist for Perspectives of Central Pennsylvania
PHOTOGRAPHIC MOMENTS
Marianna M. Archambault (Lewisburg) color photography
Jennifer Tucker (Spring Mills) color photography
Teri Schau (State College) B&W photography
Click here to view the showlist for Photographic Moments
WATERCOLOR: NEW PERSPECTIVES
Amy Fink (Bigler) watercolor
Patricia Thalman (State College) watercolor collage
Click here to view the showlist for Watercolor: New Perspectives
AN ARTIST & HIS PUPILS stained glass
Bob Nellis (Bellefonte) with his workshop: Stephen Holderman, Vivian Miele, Leeshaun Musick, Eric Naylor, Romayne Naylor, Beth Nellis Shutika, Pam Story, Dy Witt, Steve Witt
1998
ART FROM THE BALD EAGLE AREA SCHOOLS
Click here to view the showlist for Art from the Bald Eagle Schools
THE SUSQUEHANNA SERIES: oil paintings
Mark J. Mahosky (Mifflinburg)
Click here to view the showlist for The Susquehanna Series
ABSTRACT PROGRESSIONS oil paintings
Marla Jaksch (Mifflinburg)
Barbara Ellen Campbell (State College)
Click here to view the showlist for Abstract Progressions
August 8 - September 26, 1998. THE ARTS: A COMMUNITY AFFAIR
Group Show from PA Guild of Craftsmen Contact: Jane Koot, State College
Click here to view the showlist for The Arts: A Community Affair
ACROSS THE SEVEN MOUNTAINS: THREE ARTISTS OF MIFFLIN COUNTY
Tom Betush (Milroy), Larry Groninger (Lewistown), Cassie Campbell (Burnham)
Click here to view the showlist for Across the Seven Mountains
FOOD FOR THOUGHT, a group show
Susan Nicholas Gephart, Stuart Frost, Beverly Klucher, Jean Forsberg, Brad Shoemaker, Roger Zellner, Joyce Hagan, Brian Galas, Nancy Brassington, Sue Parsonage, Mary Vollero, Doug Marme, Paul Ruby, Tom Worth, & Joan Horrocks
1999
RECENT WORKS (paintings & multimedia)
Michael Miller (Bellefonte) & Michael Yoder (Reedsville)
Click here to view the showlist for Recent Works
CHILDREN OF THE BELLEFONTE SCHOOLS
Karen Baker (Bellefonte), coordinator
SPRINGS IN TIME
Marlee Erwin (State College) watercolor paintings
NEW WORKS
Mary Thompson (State College) wood engravings
Alyce Ritti (Port Matilda) collage
Click here to view the showlist for New Works
THE EDDINGER MEMORIAL ART CLASS (Lock Haven)
Sally Sample, Taffy Lopes, Darryl Gardner, Eleanor McCloskey, Eva Overturf, Laura Eldred, Mike Hall, Ronald McGinniss, Marsha Mantzoros, Barbara Pribble, Michele Basko, Cleo L. Bartoletti
Click here to view the showlist for The Eddinger Memorial Art Class
DIVERSE IMAGES, HERE AND THERE
Annie-Hannah Mancini (Centre Hall) photography
BELLEFONTE AT THE MILLENIUM, 1795 – 2000: THEN, NOW, AND TO BE A Group Show
Click here to view the showlist for Bellefonte at the Millenium